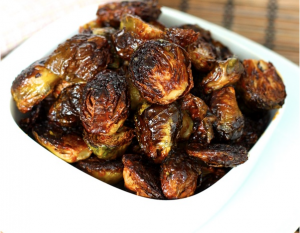 Brussels sprouts are one of my favourite items for a side dish.  They are very versatile even though the family complains about the after effects of cruciferous vegetables…  🙂  .  I have blanched them, followed by sauteeing them in butter with chopped Walnuts, shredded them into ribbons and steamed sauteed them with grated coconut a la Souther Indian, aka Tambram style and many more.  This one is a roasted variety.
Ingredients:
1 lb Brussels Sprout2
3 Tbsp of high smoke point oil (Vegetable/Peanut, I tend to use Grape seed oil since all of it is non GMO)
2 or 3 Tbsp Fish sauce; you can use Soy sauce if the Fish sauce is too Umami laden for you
2 Tbsp (or so) Something sweet like Agave nectar or Maple syrup.  I find that Maple syrup tends to take over the dish.  I have even used Demerera sugar ( 2 and a half teaspoons)
2 Tbsp Lemon Juice
1 Tbsp Red Wine Vinegar
2 tsp finely grated Ginger
Kosher Salt
Black Pepper
Mise en Place and Directions:
Preheat the oven to 400°F
Prep the Brussels sprouts

Trim the stems and remove the tough outer leaves
Cut them in half (Quarters is OK too if they are really large)
Soak them in cold water for five minutes to get rid of any dirt
Drain them and spread them out on Paper towels in a single layer to dry.  Give it the 15 -20 minutes needed to really dry them out.  You can speed it up with mopping up the water with paper towels

Toss the Brussels sprouts in the Oil with Kosher salt and spread them out single layer on a non stick baking tray or a foil lined regular tray
Bake on the top rack of the hot oven for 25 minutes
Stir and turn them over for even cooking and continue cooking for another 20 – 25 minutes
They should be Golden brown at the center but nicely charred with some crispiness to the outer leaves.
During the last 15 – 20 minutes of the baking combine the rest of the ingredients and reduce on top of the stove on medium to high heat until reduced, thickened and syrupy.
Toss the Brussels sprouts in a bowl with enough of the sauce to coat it.  You don't want excess sauce to make them soggy.
Serve immediately.
I have sometimes enjoyed this dipping sauce tossed with sauteed cabbages.  It is also quite good on roasted Cauliflower.