A lot of the Middle eastern and North African cuisines produce Kebobs from ground meats; lamb mostly but occasionally goat. Beef is a completely acceptable substitute. This version is made with Ground beef and if I had to pin it to any one of the countries of the region, I would probably pin it to Morocco since I am serving it with Cous Cous.
There are really multiple parts to this dish. The Cous Cous, the kebobs themselves, the chermoula and the yogurt raita or tadziki, whatever you want to call it. I will post the Chermoula separately since it is a dressing that is useful across many many dishes and link it here
Ground Beef Kebobs
Ingredients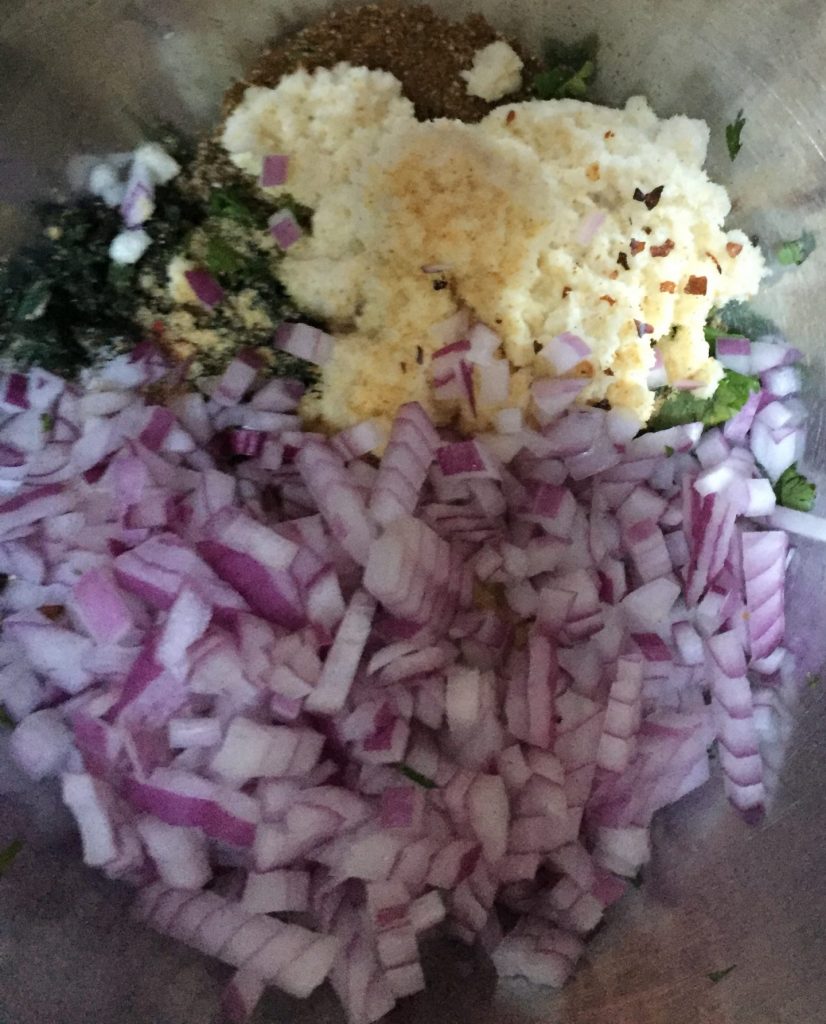 1 ½ pounds ground beef
½ cup finely minced red onion
2 Tablespoons nonfat powdered milk
2 tablespoons chopped fresh cilantro
2 tablespoons chopped fresh mint
1 tablespoon ground ginger
2 cloves of Garlic, minced
1 teaspoon cayenne
½ teaspoon salt
½ teaspoon freshly ground pepper
Olive oil
Directions
Mix the Ingredients with the ground beef. Do not over mix but get them mixed throughly to distribute the spices and herbs into the meat
Chill in the refrigerator for an hour to set up
Divide into eight and shape each in the form of a log. I make them with flat sides so it is easy to turn them to cook
Heat a cast iron pan over medium heat and brush with olive oil
Brush the kebobs with olive oil and cook them without crowding on the pan. You can cook over medium low with a partial cover on it so as to over cook the outside but be careful of moisture exuded from the kebobs. You DO NOT want to poach the meat.
Make sure they are completely cooked.
Cous Cous
Ingredients & Directions
1 cup Cous Cous
2 cups water (Use the ratio recommended for your brand of Cous Cous)
1 ½ teaspoon ground cumin
½ teaspoon ground coriander
½ teaspoon ground turmeric
Salt and ground black pepper to taste
Place all the ingredients except the water in a flat pan
Bring the water to a boil and immediately add to the tray and mix it well with a fork
Wait for the cousin cousin to absorb all of the water
Add a tablespoon of olive oil to the tray and fluff to mix it in completely. Use a fork if you are squeamish but I tend to don gloves and rub it between my fingers and palm
Let it rest for five minutes and repeat twice more with a tablespoon of olive oil each time
Reheat just before serving in a microwave
Raita … or Tadziki with a twist
Ingredients & Directions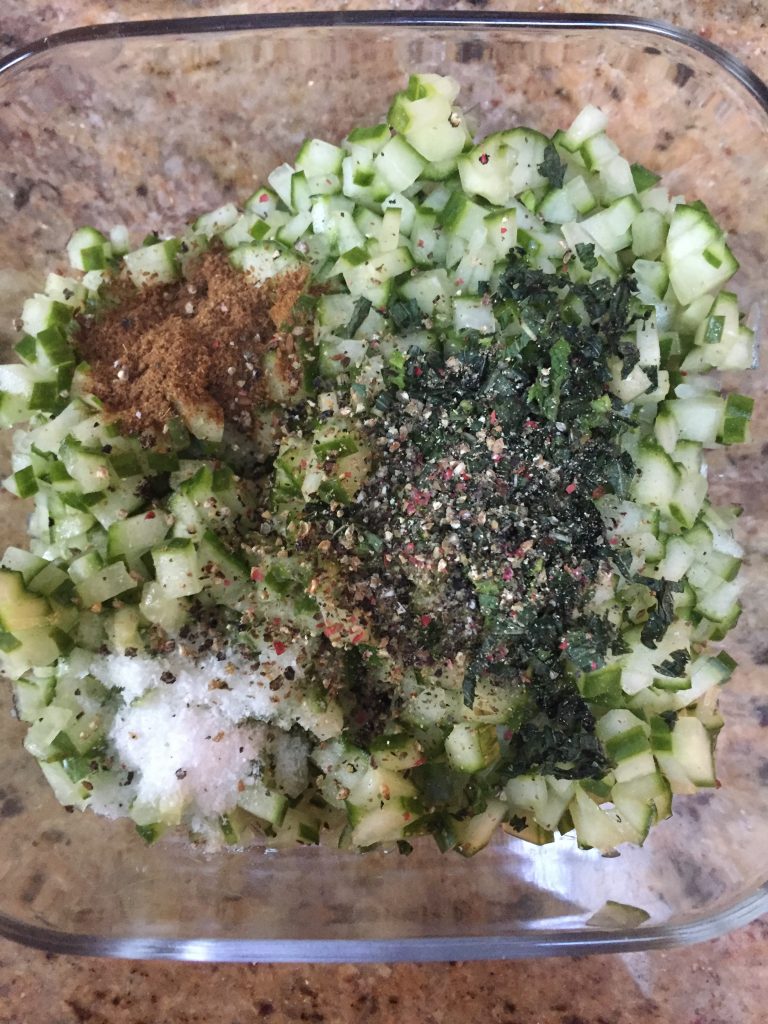 1 cup Greek Yogurt, Plain
1 tablespoon of minced fresh Mint
½ teaspoon ground Cumin
¼ teaspoon Salt
Fresh ground black pepper to taste
1 medium English Cucumber, peeled, seeded and diced fine
Mix all the ingredients together
Taste and adjust salt and acidity(use lemon juice as needed)
Rest an hour in the fridge before using
Serve the kebobs on a bed of heated Couscous dressed with the Chermoula. Serve the raita as the side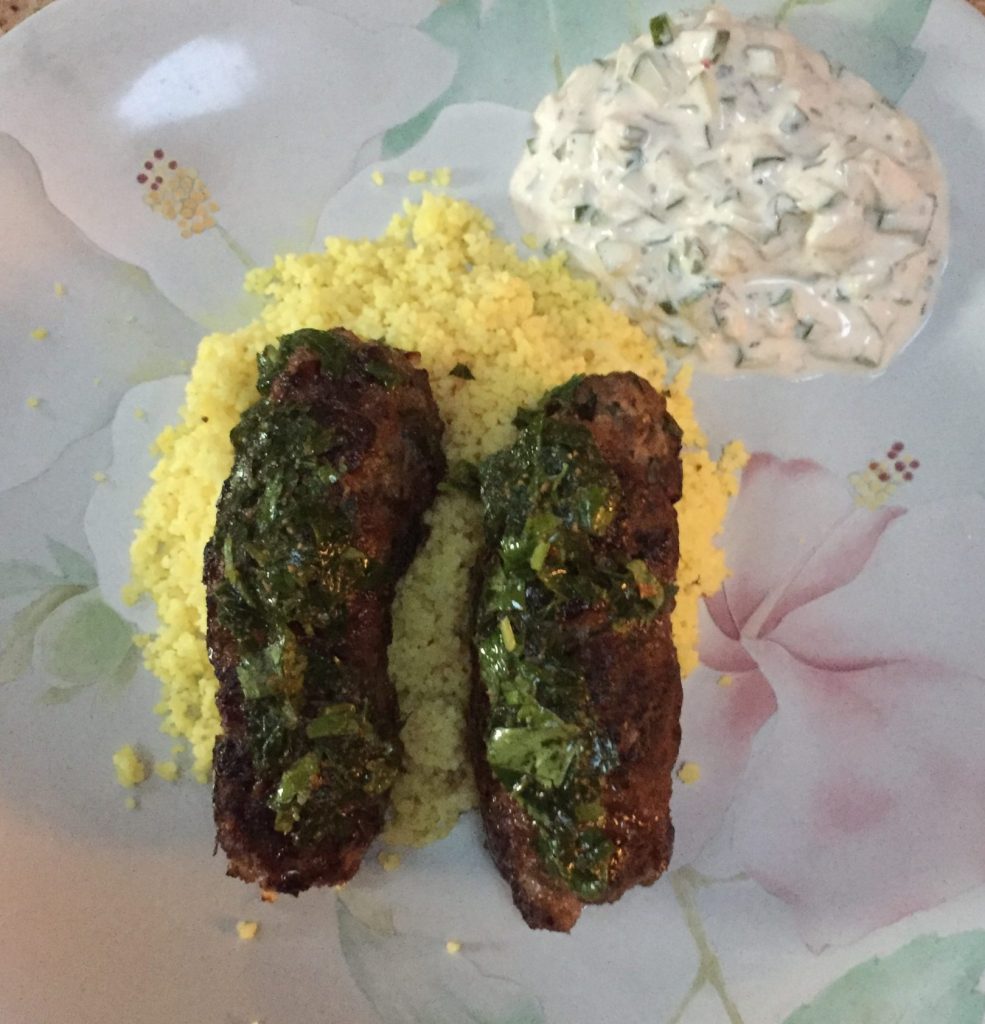 Traditionally Cous Cous with a Meat and Vegetable stew is always Lamb.  I have played with this before by using Beef; I tend to use something like chuck or other tougher stewing kind of cuts of Beef instead of cubed Lamb leg or shoulder.  I decided it was time to really play with this and use Chicken instead.  I did use dark meat aka thighs.  Breast or tenders would have been way too tender a meat and would probably dissolve into the stew.  The thing to watch out for is that chicken would cook faster and therefore the times have to get adjusted as to when to add the secondary ingredients.
Ingredients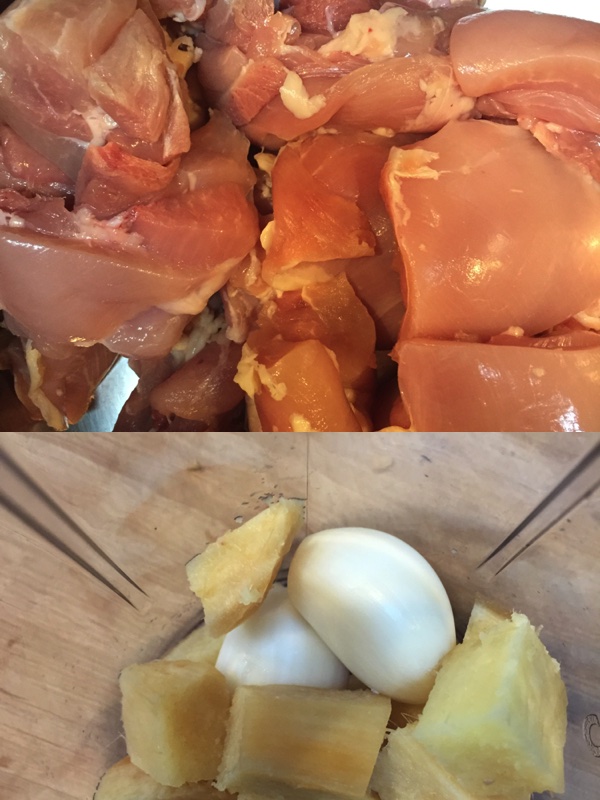 1½ lbs Boneless Skinless chicken thighs cut into 2 inch chunks
2 Tbsp Harissa (I have made it… will post recipe, I have also used canned from Ed Hyder's Mediterranean market Place in Worcester…)
5 medium to large cloves of garlic
As much chunks of peeled ginger as garlic
2 Tbsp Tomato Paste
2 tsp powdered cumin
Salt to taste
1 tsp of Cayenne powder (optional); use less depending on your tolerance for heat..
2 cups of chicken stock and 2 cups of water; you can use all water with very little loss of flavour
1 Purple-top Turnip, peeled and cut into ¾" chunks
1 Large onion chopped (big)
2 Carrots peeled, cut into ¾" chunks
½ small butternut squash, peeled, seeded, cut into 1″ chunks
2 large ripe tomatoes, cored and chopped
Directions
Put the garlic and the Ginger in a mini chop and blend well.  Use a Tbsp of water to aid in the blending.
Place the ingredients (chicken … Salt), including the blended ginger-garlic paste  in a large stock pot
Add the stock and water mixture
Stir and bring to a boil
Reduce heat to achieve a gentle boil and cook for 20 minutes
Add the carrots, turnips, onions and the butternut squash (Parsnips are another perfect addition at his point) and bring it back to a gentle boil and continue for 15 minutes.
Add the chopped tomatoes and continue boiling for 10 more minutes.
Check that the thighs are completely cooked.  They should be.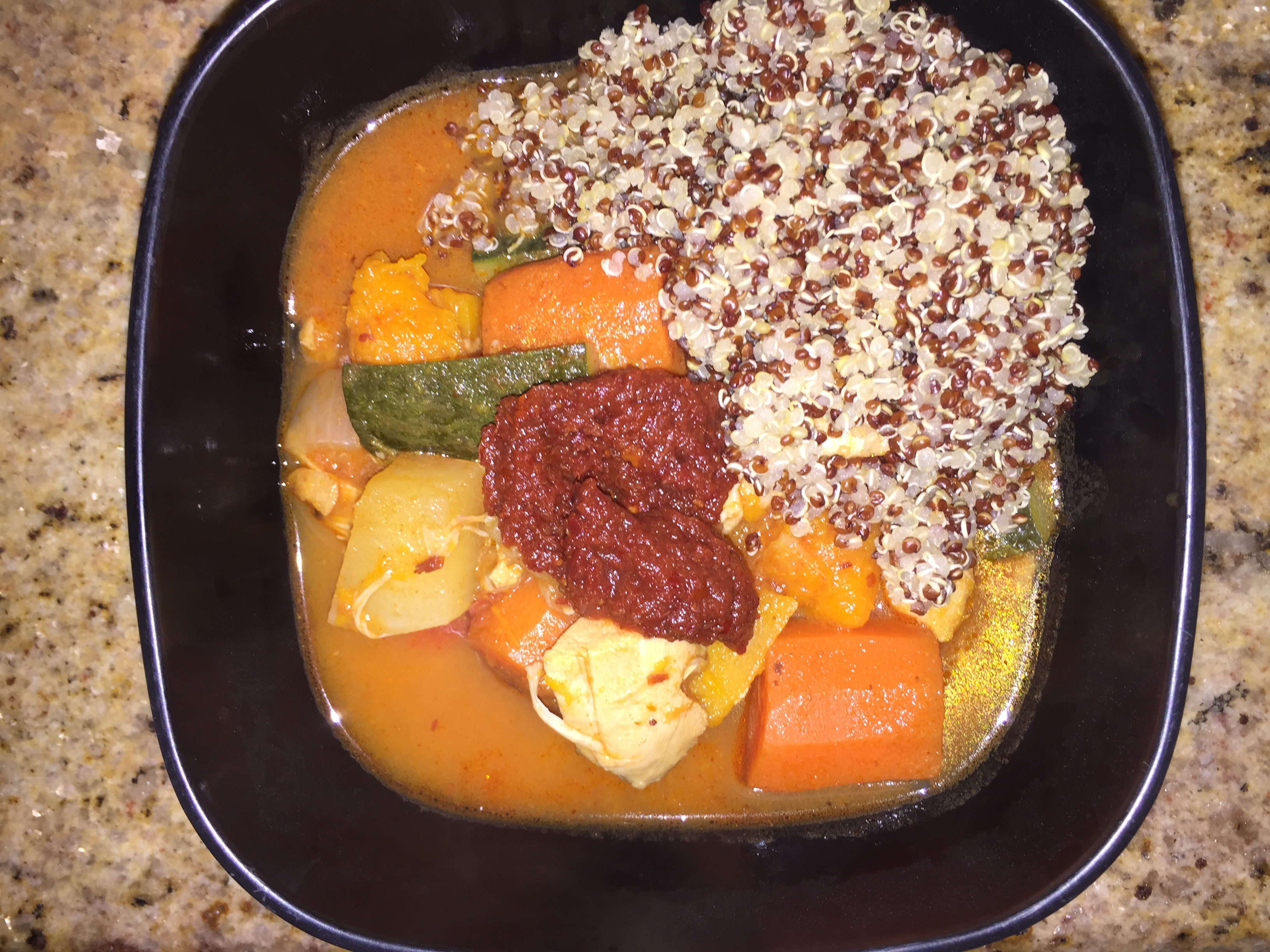 Serve in a bowl with Cous Cous and a robust white wine like a Verdejo, Rias Baixas or even an Alberiño.  This dish has enough muscle to stand up to a red; in that case look for a fruit forward red.  The spices call for the fruit.
The bowl above, mine, I ate it with Quinoa instead of the Carb heavy Cous Cous with an extra dash of Harissa…
Enjoy!!!