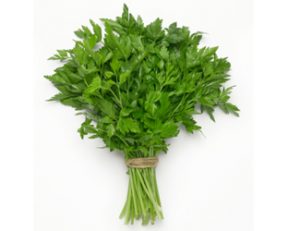 Herb stems get the short shrift when it comes to their use and get thrown out most of the time.
Parley stems (to the left) and Cilantro stems (below) almost always get thrown out.  These have a ton of flavour.  Wash them and chop them fine and throw them in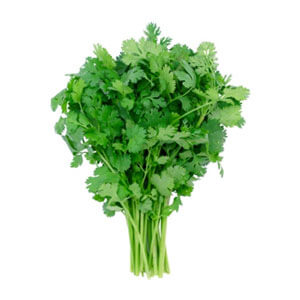 wherever you use their leaves as well.  In fact, they don't lose their aroma and flavour as fast as the leaves, So use them early in the cooking and supplement them to wards the end of the cooking process with their respective leaves.
Chopped Parsley stems work great in soups and stews.  I have also puréed them and added them with leaves to make Pommes persillade, which is Pan roasted potatoes with Parsley and Garlic, a classic French Potato preparation.  Puréed Parsley stems work great when you want to cut the basil in making a pesto with Parsley; just use a mixture of leaves and stems puréed to add to the Basil in making the Pesto.
Chopped Cilantro stems are a godsend when you are making a curry.  I add them early in the cooking process and use them also very heavily when making a curry base.  One of the most common bases for Suuth Indian style Green Curry is puréed Cilantro, Garlic, Green Chillies.  I add the stem in there on a routine basis.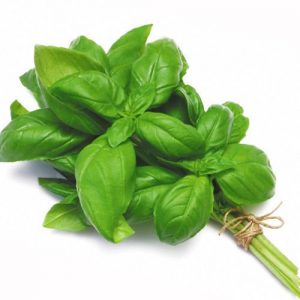 Basil stems, use them in Flavoured oil.  Blanche them for twenty seconds in boiling water and immediately plunge them in ice water to stop the cooking.  This is just to sterilize the outside of the stems.  Dry them completely with paper towels and then put them in a air tight glass bottle with some warm extra virgin Olive oil.  Steep them for a ten days to fourteen days and then discard them or purée the oil soaked basil stems and add them to Pesto.
The woodier stems of Rosemary and thyme have less wide ranging uses.  However, they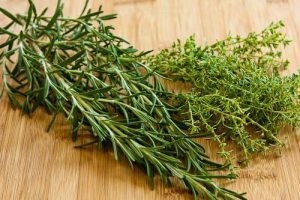 can be added to stews for flavouring.  Rosemary needs care since it has piney undertones.  However, thyme stems are fine when used in stews.  More often than not, I just tie thyme into a bundle with Kitchen twine and use it stems and all and then get them out after the cooking is done.
So don't think of them as waste but there are plenty of usefulness in the parts of herbs we are conditioned to throw away.  Try using them and you will be surprised.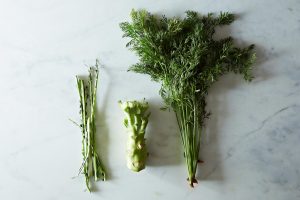 Most of us use vegetables in the kitchen.  We have our habits of processing the vegetables, keeping some parts and tossing out others.  This post is about two different things; one is that by throwing out some parts we may be losing out on the flavours contained there in, and the other is that it extends the use of the ingredient and actually contributes to frugality.  It is the case of use as much of the ingredient as possible, along the lines of eat all parts of the butchered animal ethos.  So I am also going to include these posts under the "Frugal Eating" Category.
One classic example is Broccoli.  We cut the florets to steam and all of the stalks get tossed away as debris.  At best, they are thrown on the compost heap.  The same thing happens with Cauliflower stalks.
This practice is even more prevalent when we look at Herbs.  Parsley is a classic example; we use the leaves and the entire pile of stems hits the garbage.  The same happens to Cilantro and to Basil.
I will treat each of these ingredients and give them their due in separate posts.
I know I have been remiss the last 3 or so weeks.  I got caught up doing a bunch of other things and have not posted anything.  I will change it.
There a few things on my mind regarding cooking and they will hit the blog soon.  So hang in there.