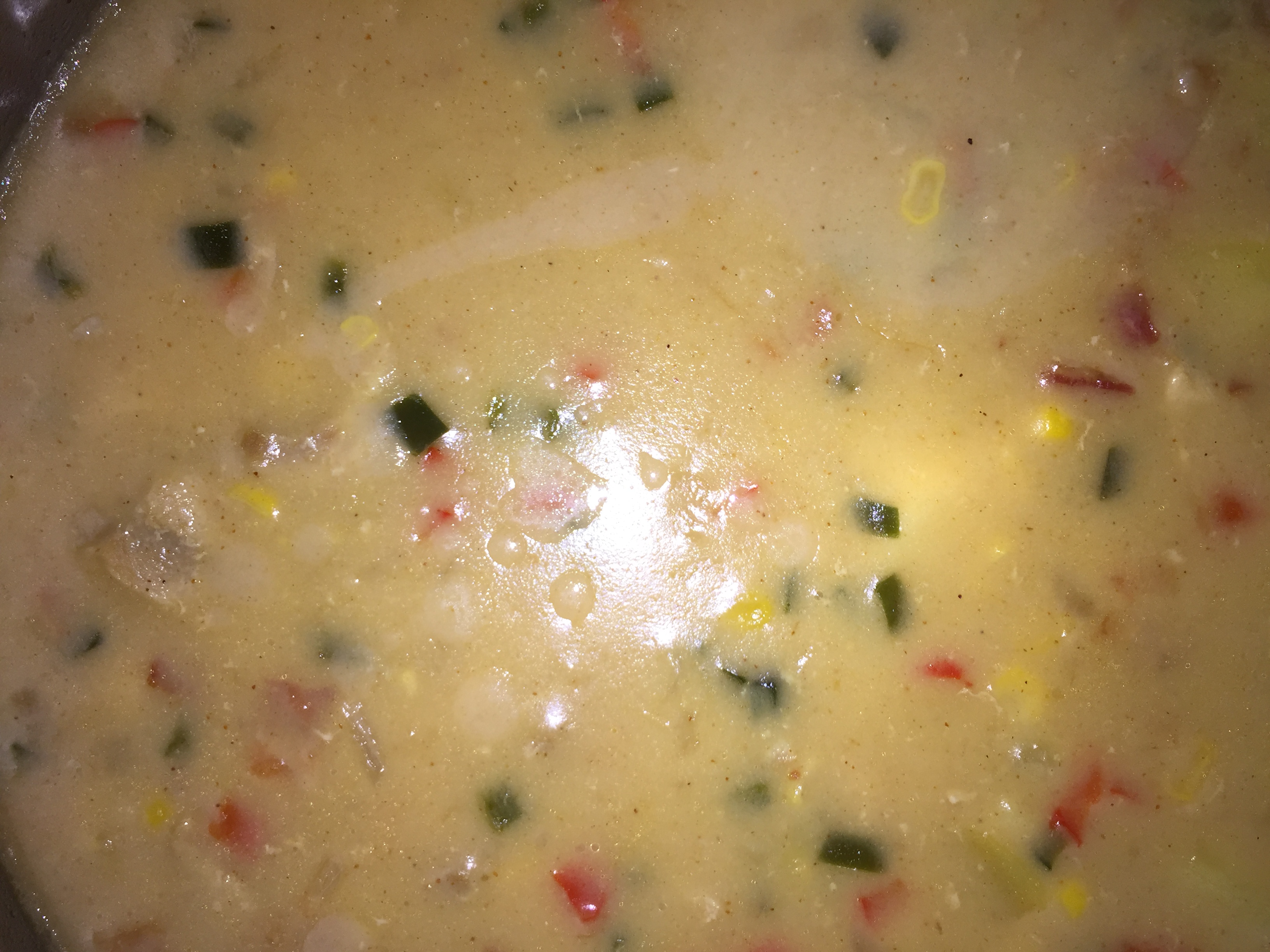 Chowdah, as it is pronounced around these parts, also known as chowder.  I had some chicken thighs in the freezer and I needed to put something together quick and one pan.  So this was my rendition of a chicken corn chowder.
Ingredients
Chicken thighs trimmed of fat and chopped half inch chunks
Boiling potatoes to yield about 1 cup of boiled ½ inch cubes
1 fresh Green Chipotle pepper chopped fine
½ red bell pepper chopped fine
1 Medium onion, chopped fine
3 cloves of crushed Garlic
2 heaped Tbsp All purpose flour
1 cup of Milk
¼cup Half and Half
2-3 Bay leaves
1 tsp ground cumin
½ tsp Cayenne
1 tsp Chipotle chilli powder
Salt to season
2 Tbsp White wine Vinegar
Fistful of cooked and crumbled bacon bits.
Directions
Poach the chopped chicken in water to cover completely with some salt a couple of Bay leaves for about 30 minutes till the chicken is completely done.
While poaching the chicken skim of the foamy bits that float to clarify the broth that forms.
While the chicken in poaching, boil the potatoes in salt water till done while still retaining their firmness.  Cool in cold water, peel and chop into ½ inch chunks
Strain out the chicken completely and reserve the resulting chicken stock separately.
Sauté onions in a Tbsp of butter and some vegetable oil until translucnet and they start taking on a little bit of colour.
Add the Garlic and continue to sauté for another minute
Add both the peppers and continue sautéing till the peppers are soft and start to take on some colour.
Add the flour and continue mixing to cook out the flour flavour and make an in situ roux.
When the roux has taken on a golden colour add the reserved chicken stock and bring to a simmer.  At this point the liquid should be quite thick.
Add in the cumin, cayenne and one more bay leaf.  Season with salt.
Add the cumin, chipotle powder and the vinegar and mix well
Thin it out with the milk and heat to boil and simmer for about 5 minutes to meld the flavours.
Add in the chicken and potatoes and continue till everything is heated up.
The soup should have the consistency of a thin pancake batter.
Adjust seasonings and serve with a garnish of Bacon bits and finely chopped scallions