A lot of the Middle eastern and North African cuisines produce Kebobs from ground meats; lamb mostly but occasionally goat. Beef is a completely acceptable substitute. This version is made with Ground beef and if I had to pin it to any one of the countries of the region, I would probably pin it to Morocco since I am serving it with Cous Cous.
There are really multiple parts to this dish. The Cous Cous, the kebobs themselves, the chermoula and the yogurt raita or tadziki, whatever you want to call it. I will post the Chermoula separately since it is a dressing that is useful across many many dishes and link it here
Ground Beef Kebobs
Ingredients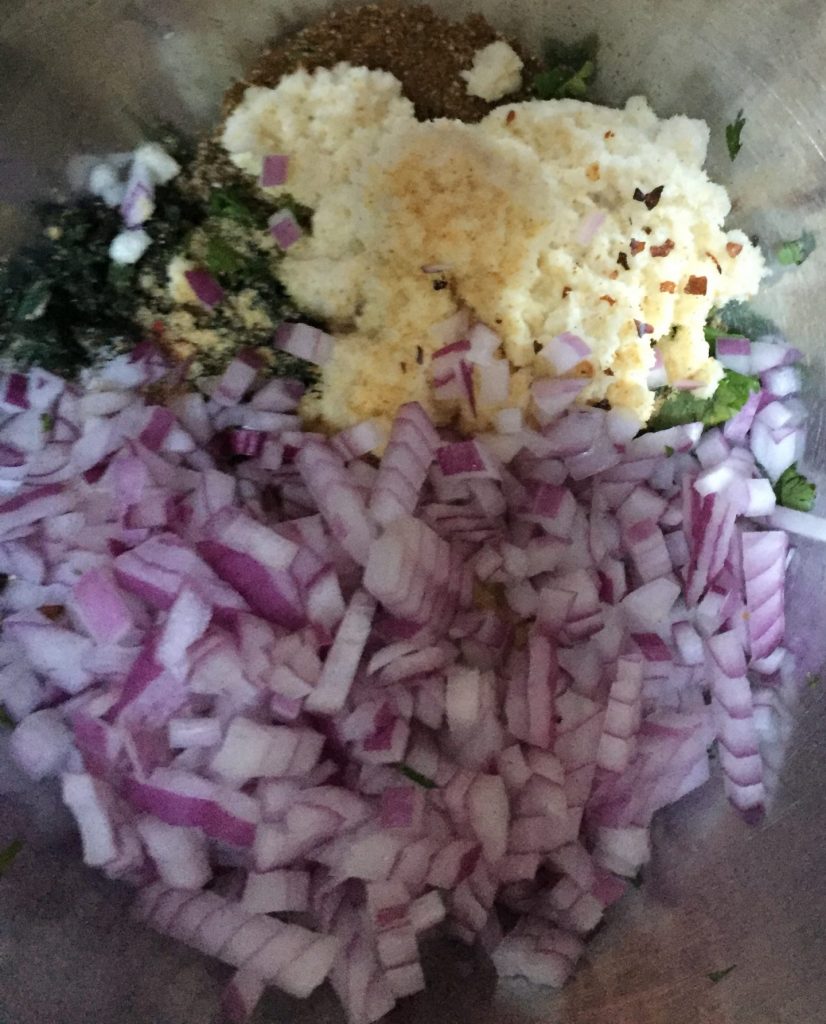 1 ½ pounds ground beef
½ cup finely minced red onion
2 Tablespoons nonfat powdered milk
2 tablespoons chopped fresh cilantro
2 tablespoons chopped fresh mint
1 tablespoon ground ginger
2 cloves of Garlic, minced
1 teaspoon cayenne
½ teaspoon salt
½ teaspoon freshly ground pepper
Olive oil
Directions
Mix the Ingredients with the ground beef. Do not over mix but get them mixed throughly to distribute the spices and herbs into the meat
Chill in the refrigerator for an hour to set up
Divide into eight and shape each in the form of a log. I make them with flat sides so it is easy to turn them to cook
Heat a cast iron pan over medium heat and brush with olive oil
Brush the kebobs with olive oil and cook them without crowding on the pan. You can cook over medium low with a partial cover on it so as to over cook the outside but be careful of moisture exuded from the kebobs. You DO NOT want to poach the meat.
Make sure they are completely cooked.
Cous Cous
Ingredients & Directions
1 cup Cous Cous
2 cups water (Use the ratio recommended for your brand of Cous Cous)
1 ½ teaspoon ground cumin
½ teaspoon ground coriander
½ teaspoon ground turmeric
Salt and ground black pepper to taste
Place all the ingredients except the water in a flat pan
Bring the water to a boil and immediately add to the tray and mix it well with a fork
Wait for the cousin cousin to absorb all of the water
Add a tablespoon of olive oil to the tray and fluff to mix it in completely. Use a fork if you are squeamish but I tend to don gloves and rub it between my fingers and palm
Let it rest for five minutes and repeat twice more with a tablespoon of olive oil each time
Reheat just before serving in a microwave
Raita … or Tadziki with a twist
Ingredients & Directions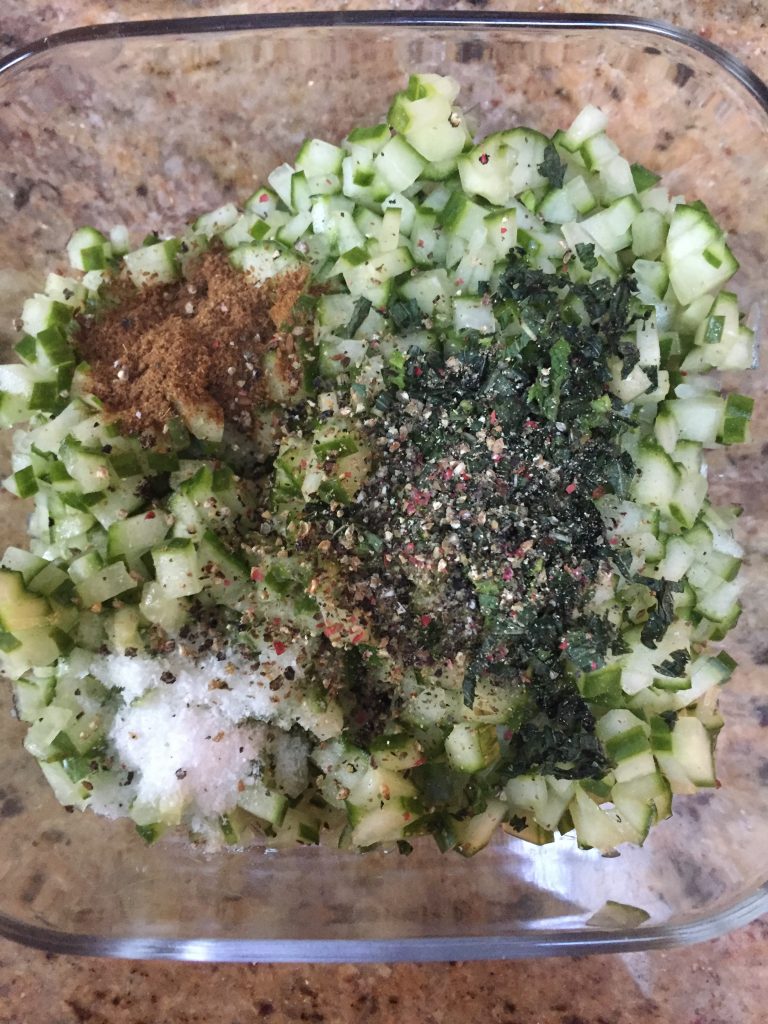 1 cup Greek Yogurt, Plain
1 tablespoon of minced fresh Mint
½ teaspoon ground Cumin
¼ teaspoon Salt
Fresh ground black pepper to taste
1 medium English Cucumber, peeled, seeded and diced fine
Mix all the ingredients together
Taste and adjust salt and acidity(use lemon juice as needed)
Rest an hour in the fridge before using
Serve the kebobs on a bed of heated Couscous dressed with the Chermoula. Serve the raita as the side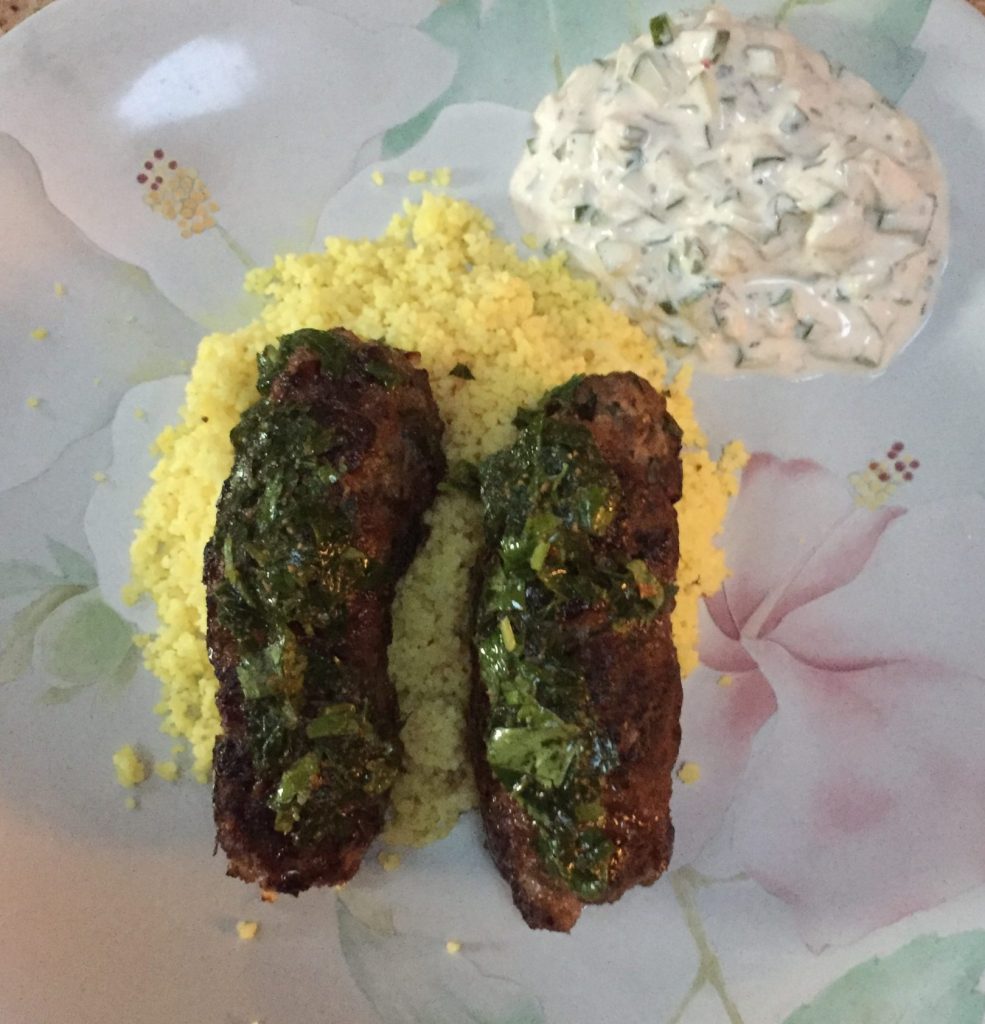 Traditionally Cous Cous with a Meat and Vegetable stew is always Lamb.  I have played with this before by using Beef; I tend to use something like chuck or other tougher stewing kind of cuts of Beef instead of cubed Lamb leg or shoulder.  I decided it was time to really play with this and use Chicken instead.  I did use dark meat aka thighs.  Breast or tenders would have been way too tender a meat and would probably dissolve into the stew.  The thing to watch out for is that chicken would cook faster and therefore the times have to get adjusted as to when to add the secondary ingredients.
Ingredients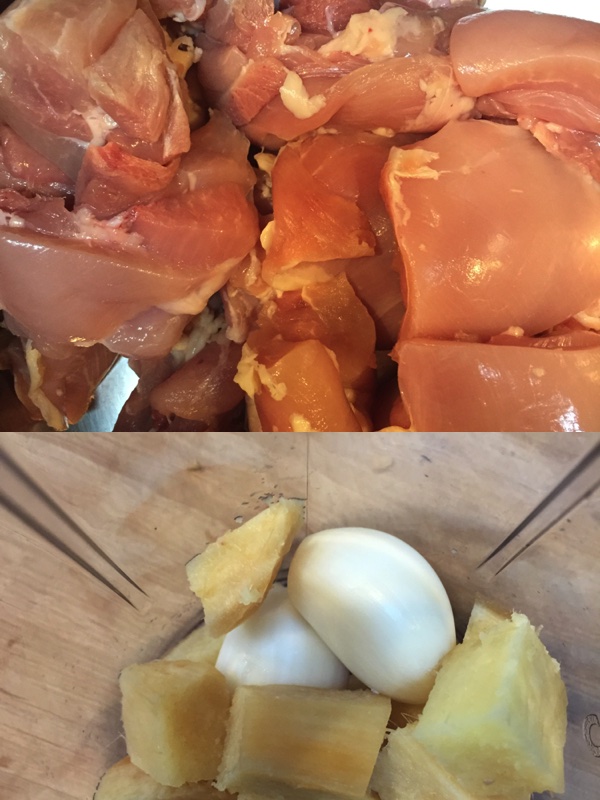 1½ lbs Boneless Skinless chicken thighs cut into 2 inch chunks
2 Tbsp Harissa (I have made it… will post recipe, I have also used canned from Ed Hyder's Mediterranean market Place in Worcester…)
5 medium to large cloves of garlic
As much chunks of peeled ginger as garlic
2 Tbsp Tomato Paste
2 tsp powdered cumin
Salt to taste
1 tsp of Cayenne powder (optional); use less depending on your tolerance for heat..
2 cups of chicken stock and 2 cups of water; you can use all water with very little loss of flavour
1 Purple-top Turnip, peeled and cut into ¾" chunks
1 Large onion chopped (big)
2 Carrots peeled, cut into ¾" chunks
½ small butternut squash, peeled, seeded, cut into 1″ chunks
2 large ripe tomatoes, cored and chopped
Directions
Put the garlic and the Ginger in a mini chop and blend well.  Use a Tbsp of water to aid in the blending.
Place the ingredients (chicken … Salt), including the blended ginger-garlic paste  in a large stock pot
Add the stock and water mixture
Stir and bring to a boil
Reduce heat to achieve a gentle boil and cook for 20 minutes
Add the carrots, turnips, onions and the butternut squash (Parsnips are another perfect addition at his point) and bring it back to a gentle boil and continue for 15 minutes.
Add the chopped tomatoes and continue boiling for 10 more minutes.
Check that the thighs are completely cooked.  They should be.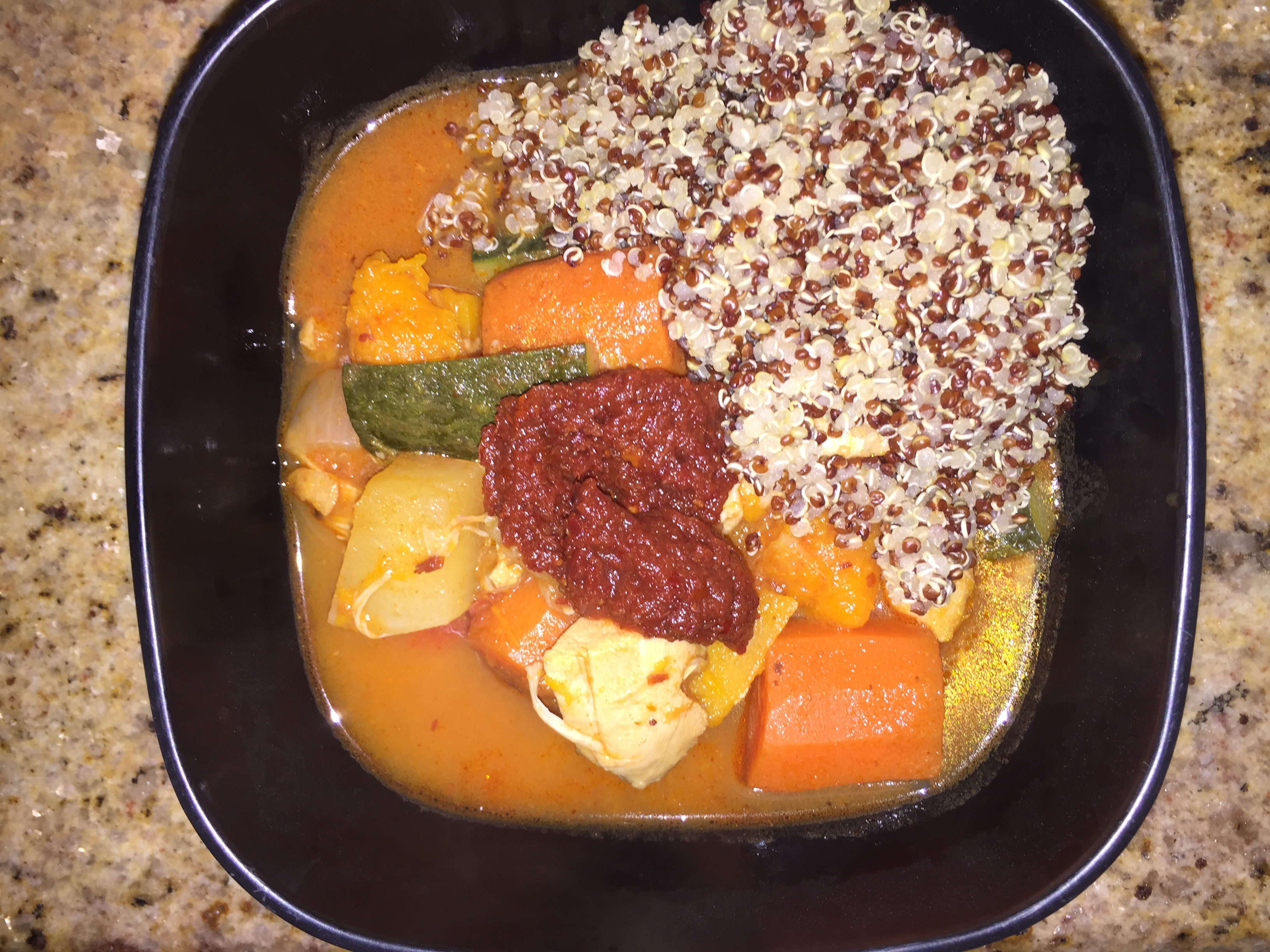 Serve in a bowl with Cous Cous and a robust white wine like a Verdejo, Rias Baixas or even an Alberiño.  This dish has enough muscle to stand up to a red; in that case look for a fruit forward red.  The spices call for the fruit.
The bowl above, mine, I ate it with Quinoa instead of the Carb heavy Cous Cous with an extra dash of Harissa…
Enjoy!!!
Coorg is a region of India which now part of the State of Karnataka or Mysore as it was known during the Raj.  It has its own distinctive flavour profile and is characterized by the use of Vinegar in its marinades as well as the bright fruity acidity of the finished dish.  This particular recipe was an attempt to recreate a Coorg style Chicken curry recipe.
Ingredients
Marinade
1 tsp heaped toasted ground cumin
1 tsp heaped toasted ground coriander
½ tsp ground cardamom
¼ and a pinch of ground cloves
¼ and a pinch of ground cinnamon
1½ Tsp peeled chopped garlic
1½ Tsp peeled chopped ginger
4 Tsp white vinegar
½ tsp or more Cayenne (depends on how hot you want it, stick to a half for New England heat or go up to 1 or more depending on your heat tolerance or desire)
Salt to taste
3 Tsp Lemon juice
Main Ingredients
1 – 1 ½ lb of Chicken thighs trimmed of fat and cut into 1 inch pieces
2 large tomatoes chopped
1 red bell pepper cored seeded and cut into strips
½ cup chicken broth
1 large onion chopped reasonably fine
½ tsp dark tamarind paste
Cilantro for garnish
Directions
Add the chicken to the marinade and mix to coat well
Marinate on the counter top for 30 minutes or even as long as overnight in the fridge
Heat a deep non stick pan on medium high heat and add a couple of tablespoons of oil to it.
When the oil is hot and shimmering, add the onions and saute until the onion starts taking on a bit of color without frying them
Add the ckicken with the marinade  and the bell pepper and continue suteing until the chicken starts taking on some colour as well
Add the tomatoes and the broth, bring it up to a good simmer, cover, reduce heat and cook for the next 15 minutes until the chicken is completely cooked and most of the liquid is absorbed
Mix in the dark tamarind paste and garnish with Cilantro
Serve with rice and Yogurt to to cool your mouth against the heat, if it is warranted.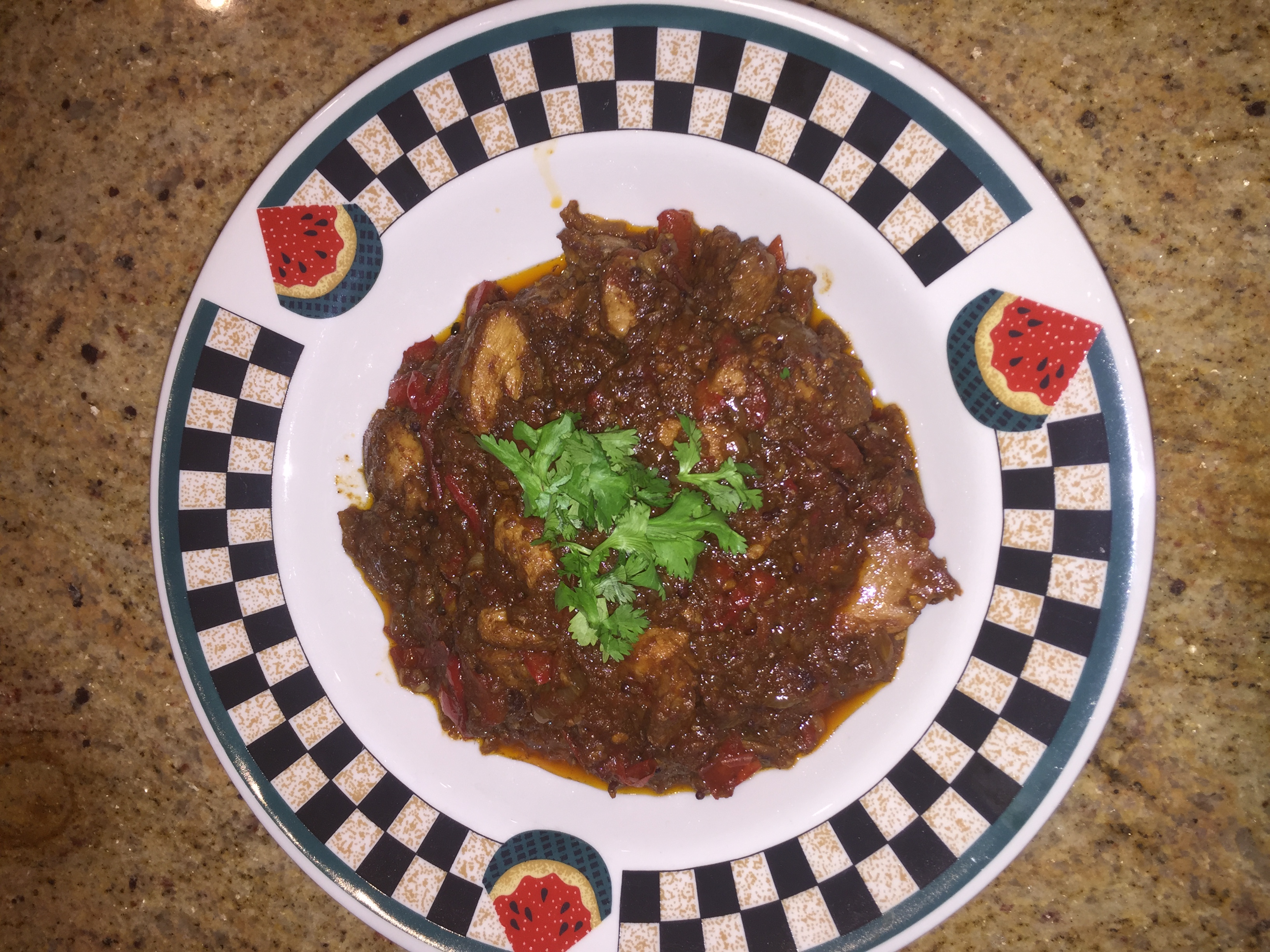 Pho, a deep rich umami laden Vietnamese Soup that eats like a meal.  It consists of a broth either beef or chicken, prepared from the usual starting point of almost all broths, roasted bones.  But then the charred onions, with roasted spices like Cinnamon and Star Anise as well as the sweetness from some Rock candy" and a bunch of charred as well as dried Shiitake mushrooms takes it from a standard boring Beef Broth or Chicken broth into the realm of "Divinely rich".
Start with the Beef broth, ladle it real hot over some rice noodles and a beef cut of your choice, garnish with a bunch of things at the table and you have a beef based meal.  The condiments generally include Thai Basil, sliced Bird's eye Chili (Chilé de Arbol is the closest in flavour), Wedges of Lime, Bean Sprouts and Cilantro.  There is always some of the Chili sauce on the table to give it more of a kick if you prefer and the sweetish fermented bean paste.  The common versions are "Pho tai" with thinly sliced tenderloin or rib eye (they stay rare since the only cooking they see is from the super hot broth poured over them), "Pho bo chin" with well done, Flank steak or Brisket, "Pho nam" with Flank steak and "Pho gau" with fatty brisket meat.  For the more adventurous of you, you can always try "Pho sach" with tripe and "Pho gan" with tendon.
Start with chicken broth and you end up with "Pho ga"; let me just say this isn't your boring chicken soup…
A couple of years ago, while visiting Gillian at UMass Amherst and eating at Berkshire (it may have been Hampshire) dining hall, I sampled their version of a vegetarian Pho.  A vegetable broth with a very mild curry flavour (almost like the chef was afraid of the curry powder) with Tofu for protein.  I decided I wanted to make a Pho but not Pho and go the Thai route, almost a Chicken Tom Yum.
Here is what I came up with and it actually worked.
Ingredients:
Broth:
4 Stalks of Lemon Grass
1 ½ cups of Basil with the thin stems included
1 cup of Cilantro
2 Tbsp of Lemon Juice
¼ cup Tamari
2 ½ – 3 Tbsp Grated Galanga (Substitute with 2 Tbsp grated Ginger)
1 can of Cocunut Milk
2 Thai bird chilis
Main Ingredients:
1 lb chicken tenders membranes removed and cut into bite sized chunks
½ cup Broccoli Florets
½ cup cut green Beans
¼ cup sliced red onions
¼ cup sliced Red Bell Peppers
2 Kaffir lime leaves (Optional); Use 2 tsp of lime juice instead
Cooked Brown Rice
Garnish:
matchstick sliced Carrots
Bean Sprouts
Cilantro
Thinly sliced Scallions
matchstick sliced Daikon radish
Directions: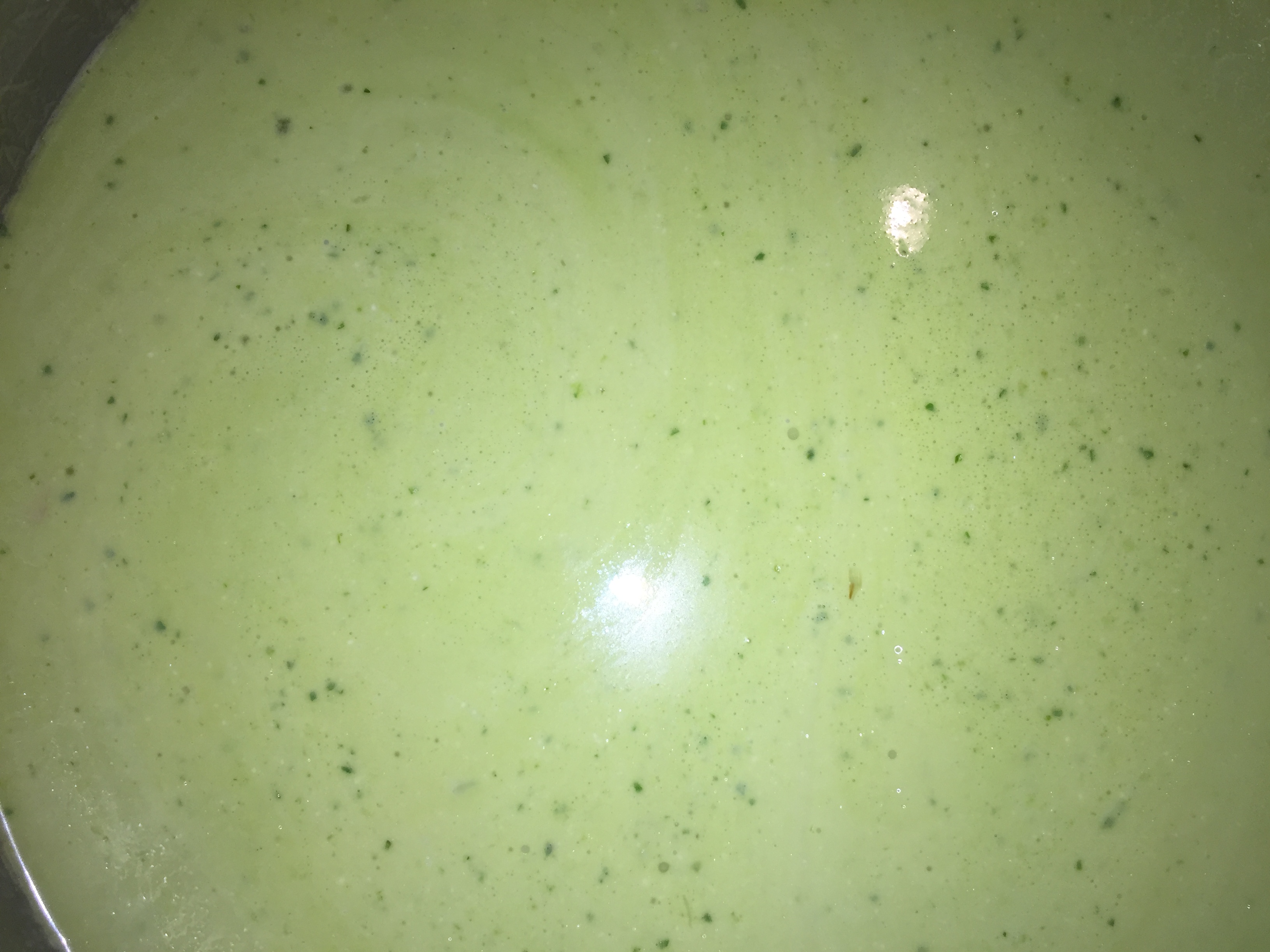 Bang the Lemon grass stalks with the back of the heavy bladed knife to loosen it up and then chop it into rounds about ¼" or thinner
Boil 3 cups of water and pour over the chopped lemon grass in a pot and steep 20 minutes.
While it is steeping, Add all of the ingredients for the broth with the exception of the coconut milk into a blender.
Add half of the steeped Lemon grass tea and about half the can of coconut mil in the blender.  Remember to strain the lemon grass tea through a wire strainer (you don't need the woody stalks)
Blend well; you need it to be as smooth as possible.  Add a little extra of the lemon grass teas as needed to make the blending easier.
Strain the blended liquid through a wire-mesh strainer into a pot.  Use the lemon grass tea to wash out the blender and strain through the strainer with the extra coconut milk.
Add the chopped chick to the strained broth and season well.  Bring to a boil over medium heat and simmer for about 10 minutes.
Add the Broccoli, green beans, bell peppers and the onions to the pot together with either the lime leaves or the lime juice and continue simmering for another 8-10 minutes.
Ladle hot into bowls and garnish with the Garnish Ingredients as well as a scoop of cooked Brown rice.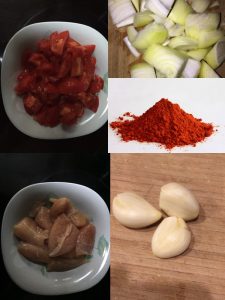 Doro Wat is a wonderfully spicy and I don't mean "spicy hot", but flavoursome chicken stew from Ethiopia.  It uses the Berbere spice from the last post.  Since the spices are robust, it is best to use chicken thighs rather than breast meat.
This is a dish that needs time.  The Ethiopian way of slow cooking the onions brings out a sweetness to them that is unparalleled.  So much so that I have taken up this as a means of cooking onions even for Indian curries etc.
Above is a collage of the basic ingredients of this recipe.  To process these as part of the mise-en-place, I used a Cuisinart stick blender with the mini chop attachment.  The onions really need to be chopped very very fine, almost a pureé.
Ingredients:
1 medium Onion, chopped very very fine, almost a puree
3 large Garlic cloves, chopped fine
3 large Tomatoes, coarsely chopped and then pureéd in the mini chop Doing the tomato last provides the liquid to sweep up any left over, onion and garlic bits in the mini chop
2 1/2 Tablespoons of Berbere
1 lb Chicken thighs, trimmed of excess fat and cut into one and a half inch chunks.
Olive Oil
Butter
Salt
Directions: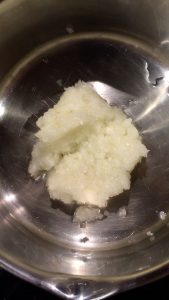 Set a heavy bottom pan on the stove on (real) low and add a tablespoon of butter and a teaspoon or so of Olive oil to prevent the butter from burning.
Once the butter ha melted and stopped foaming, add the onions, stir and cover it with the lid.  Spread the onions out as evenly as possible on the bottom before covering.
Look but don't touch for the next 20 minutes or so.  The onions will semi-steam and semi saute as the juices from them will keep them moist and prevent scorching (hence the real low)
Add the chopped garlic, stir, add a bit more butter and or olive oil to keep everything lubricated on the bottom of the pan.
Cover and ignore it for another 15 minutes.
Add the Berbere, a bit more oil if it needs it, mix thoroughly cover and cook on low for another 15 minutes; follow this with the pureed tomateos and cook on low for another 20 minutes or so.  In fact, the oil should separate from the sauce before you add the chicken chunks.  Pictures below in sequence to show you what the various stages from above should look like.
Stir the chicken in and cover and cook on low for about 30 -45 minutes till the chicken is done.  The traditional way is to also add some hard boiled eggs to the pot for the last 15 minutes or so.  To make sure the flavours get into the eggs, you cut slits through the whites so the sauce can penetrate to the yolk.  Cut a few slits on each egg.
While, non traditional, I tend to sprinkle a little bit of garam masala on the top before serving.
Serve with Injera (traditional Ethiopian flat bread made from Tef; I will post the recipe in a separate post).  I served it with Injera and a quick salad of cherry tomatoes, cucumber, seasoned with some grated ginger, red wine vinegar, olive oil and parsley to provide the acidic counter point tot he unctuous chicken.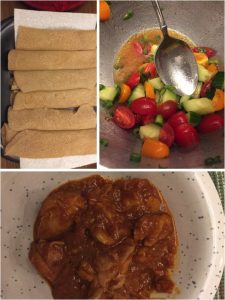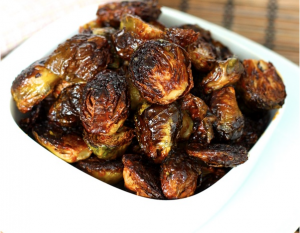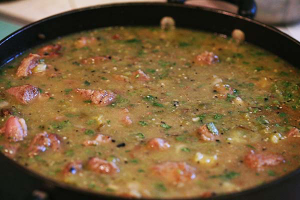 This is a classic Mexican dish with Pork and the bright acidity of the Tomatillos.  This certainly calls for a good Beer to go with it and my personal favourite is, as always, Negra Modelo.
Ingredients:
3/4 lbs Tomatillos
3-4 cloves of Garlic (unpeeled) for Roasting
2 Jalapenos (Seeded and de-veined for the blandophiles, and leave them in if you want the heat… but of course)
2 Poblano chiles
1/2 bunch of Cilantro, rinsed and chopped
1 3/4  to 2 lbs Pork Shoulder cubed
Salt and Fresh Ground Black Pepper
3 Cloves of Garlic finely chopped
Olive Oil
1 1/2 Medium Yellow Onions chopped
1 1/2 Tbsp Mexican Oregano
1 1/2 cups Chicken Stock
1 Pinch of Ground Cloves
Directions:
De-husk and chop the Tomatillos in Half
Broil them cut side down for 5 to 10 minutes in the oven.
Broil the unpeeled garlic cloves and the Poblano peppers separately and squeeze out the garlic from the husk and steam and remove the skin as well as the seeds and the veins from the Poblano peppers.
Blend the broiled tomatillos with the garlic, Poblano and the Jalapeno peppers and the Chopped Cilantro.
Generously season the cubed pork with salt and pepper and sear them in a heavy bottomed skillet with the Olive oil to brown them on all sides.  Work in batches if need be to not crown the pan and lead to steaming the pork rather than searing it.  Remove with a slotted spoon and set aside.
Pour off most of the residual fat and saute the onions and the garlic till wilted and fragrant.
Add back the Pork the pureed tomatillo sauce, the oregano, and the pinch of cloves.  Add a little bit more salt and pepper for seasoning.  Be careful here since the sauce is going to concentrate a bit.
Add enough stock to cover the meat.
Bring to a boil and reduce to a real low simmer and cook on the stove between 2 and 3 hours until the pork is fork tender.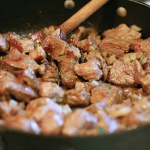 Serve with Mexican style dirty rice and fresh corn tortillas….
Keep the Negra Modelo at hand