Traditionally Cous Cous with a Meat and Vegetable stew is always Lamb.  I have played with this before by using Beef; I tend to use something like chuck or other tougher stewing kind of cuts of Beef instead of cubed Lamb leg or shoulder.  I decided it was time to really play with this and use Chicken instead.  I did use dark meat aka thighs.  Breast or tenders would have been way too tender a meat and would probably dissolve into the stew.  The thing to watch out for is that chicken would cook faster and therefore the times have to get adjusted as to when to add the secondary ingredients.
Ingredients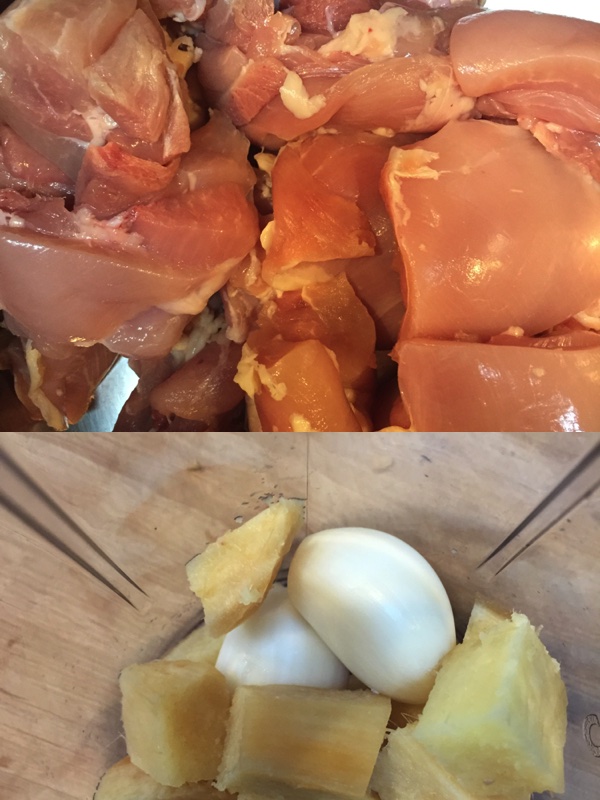 1½ lbs Boneless Skinless chicken thighs cut into 2 inch chunks
2 Tbsp Harissa (I have made it… will post recipe, I have also used canned from Ed Hyder's Mediterranean market Place in Worcester…)
5 medium to large cloves of garlic
As much chunks of peeled ginger as garlic
2 Tbsp Tomato Paste
2 tsp powdered cumin
Salt to taste
1 tsp of Cayenne powder (optional); use less depending on your tolerance for heat..
2 cups of chicken stock and 2 cups of water; you can use all water with very little loss of flavour
1 Purple-top Turnip, peeled and cut into ¾" chunks
1 Large onion chopped (big)
2 Carrots peeled, cut into ¾" chunks
½ small butternut squash, peeled, seeded, cut into 1″ chunks
2 large ripe tomatoes, cored and chopped
Directions
Put the garlic and the Ginger in a mini chop and blend well.  Use a Tbsp of water to aid in the blending.
Place the ingredients (chicken … Salt), including the blended ginger-garlic paste  in a large stock pot
Add the stock and water mixture
Stir and bring to a boil
Reduce heat to achieve a gentle boil and cook for 20 minutes
Add the carrots, turnips, onions and the butternut squash (Parsnips are another perfect addition at his point) and bring it back to a gentle boil and continue for 15 minutes.
Add the chopped tomatoes and continue boiling for 10 more minutes.
Check that the thighs are completely cooked.  They should be.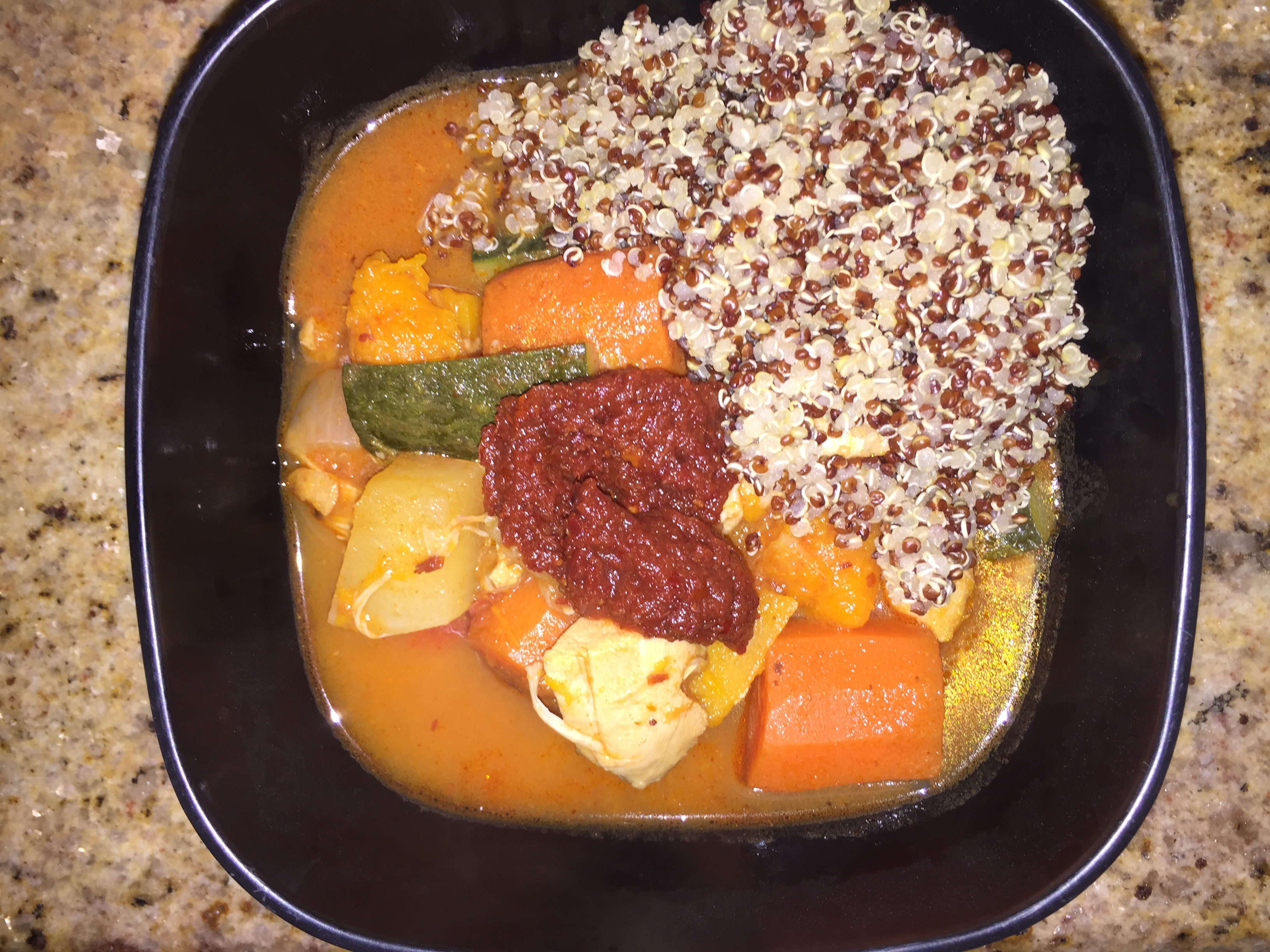 Serve in a bowl with Cous Cous and a robust white wine like a Verdejo, Rias Baixas or even an Alberiño.  This dish has enough muscle to stand up to a red; in that case look for a fruit forward red.  The spices call for the fruit.
The bowl above, mine, I ate it with Quinoa instead of the Carb heavy Cous Cous with an extra dash of Harissa…
Enjoy!!!