I am a Type 2 diabetic who has to worry about his blood glucose levels nearly all the time.  This is especially hard on me since I LOVE good crusty bread.  The other fact of life is that almost every standard breakfast item is a carb loaded things; cereal, toast, breakfast potatoes.
Eggs are fine but you end up having to cook them.  The other thing about eggs is that unless you do something to them the standard egg preps tend to get bland.  The biggest issue for me is that I don't want to turn on the stove every morning to make something with eggs that would fulfill the low carb criterion.
I started doing this a week ago and this has worked out OK.  Make little egg frittatas and store them in the fridge.  They should be fine for a week (from the USDA).  Add whatever bits needed to make them flavourful and your imagination is the limit on what you want to put in them.  For this one I went with Spinach, Garlic and nutmeg.
Let me pontificate a bit here.  The reason everybody reaches for the Cholula hot sauce or tabasco or Sriracha or whatever version of the sauce sitting on the table or even smother the version of egg you have in front of you with salt and pepper is the one glaring missing ingredient in the eggs that we as humans crave in almost all of our dishes, "ACID".  If we think about it almost all of our food is acidic in nature.  So take care of that when making these eggs.
Ingredients:
4 large brown or 3 jumbo brown eggs (the fresher the better)
2 Tbsp half and half (milk is fine too, half and half is a little richer)
Salt  to taste
Pepper.  I love substituting regular black pepper with Aleppo pepper… Try it sometime, there is smoky sweetness to it that is just amazing.  It is a bit like an Ancho without the harsh note associated with powdered Ancho chili.
½ packet of thawed frozen young spinach chopped up fairly fine
½ medium onion diced fine
2 cloves are Garlic smashed and chopped fine
1 Tbsp Red wine vinegar
Directions:

Melt a pat of butter in a non stick skillet over medium heat with a dash of vegetable oil (the oil raises the smoke point of the mixture in the pan and will prevent the butter from burning)
Saute the onions until they are translucent
Add the garlic and after 45 seconds or so add the spinach to the pan and continue sauteing.  Take care not to burn the garlic; burnt garlic is bitter!!!
Season with salt and pepper and optionally add a couple of grates of nutmeg.  Spinach loves nutmeg!
Once the spinach is cooked through, add the vinegar and mix it well and take it off the heat and let it cook.
Break the eggs into a non reactive bowl and whisk them with the half and half really well.  As you whisk you will see the colour homogenizing and actually starting to lighten.  Time to stop whisking.
Season the eggs with salt and pepper (be generous with the pepper, it needs it) and scrape the cooked and cooled vegetables into the egg.  Use a rubber spatula and get all of it including the liquid which has the acidity you are looking for. Mix well with the spatula.
Pour the mixture into buttered or oiled (I use the vegetable spray) muffin pans.  Fill it about ¾ of the way
Bake about 10-15 minutes in a 350° F oven (just for fun, I believe it is Gas mark 4!!! 🤣 ) until a toothpick inserted comes out clean.
Optionally top it with some cheese and continue for another 5 minutes to melt the cheese.  If you do this fill it ⅔ of the way in the muffin pan rather than ¾.
Cool, remove from the muffin pan and cool on cooling rack for another 15 minutes and store in the fridge.
Microwave 30 seconds or so on high to eat when you pull it out of a fridge.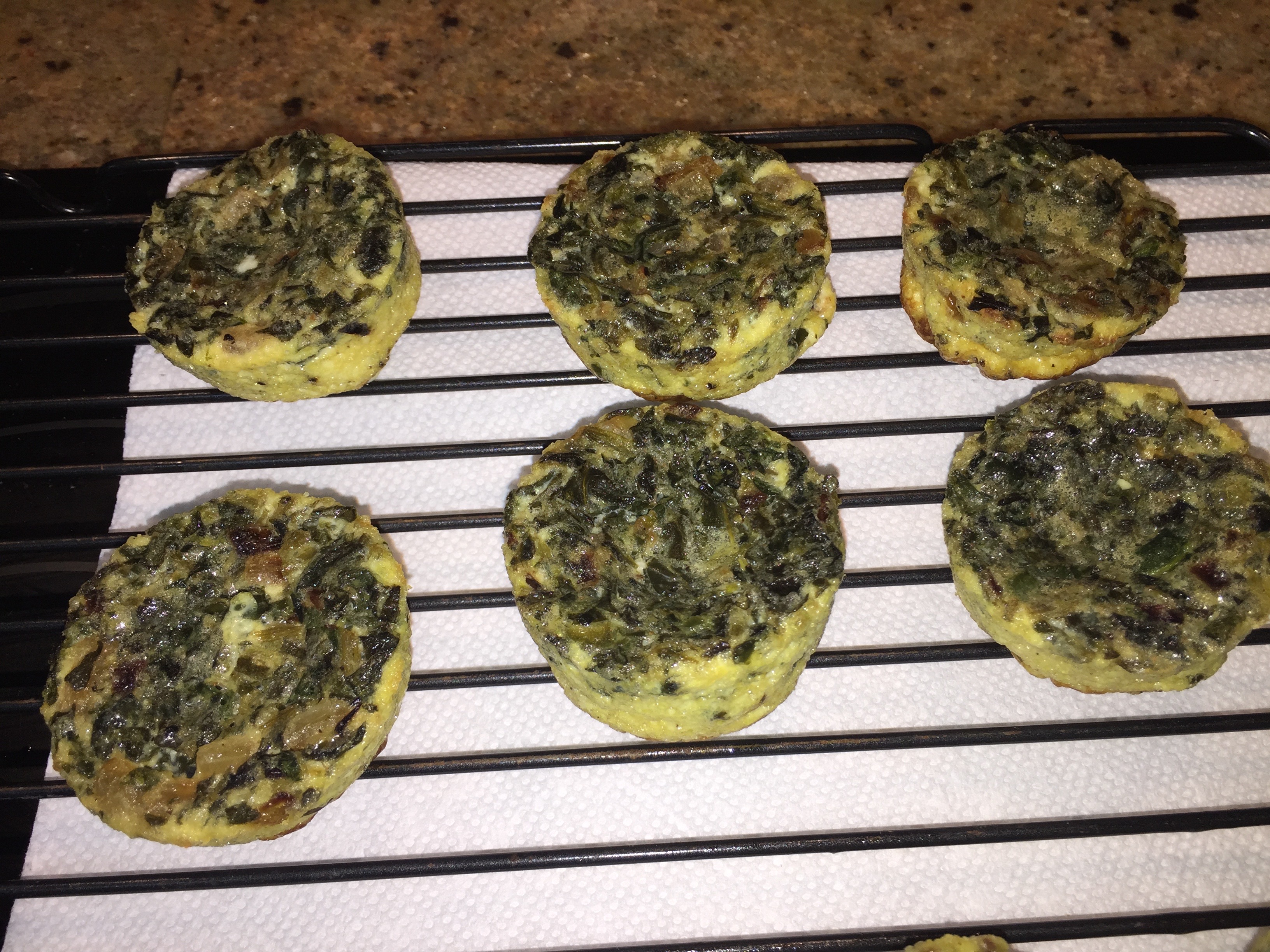 Sky is the limit of what you want to add into the eggs.  Peppers and Onions or whatever you choose to add to your omelettes or scrambled eggs can go in here.  Be careful with tomatoes since they add a bunch of liquid and will thin out the eggs as well as leave pockets of moisture.  I like partially dried tomatoes by sticking them in the oven to remove about 2/3 of their moisture or use sun dried tomatoes.