Traditionally Cous Cous with a Meat and Vegetable stew is always Lamb.  I have played with this before by using Beef; I tend to use something like chuck or other tougher stewing kind of cuts of Beef instead of cubed Lamb leg or shoulder.  I decided it was time to really play with this and use Chicken instead.  I did use dark meat aka thighs.  Breast or tenders would have been way too tender a meat and would probably dissolve into the stew.  The thing to watch out for is that chicken would cook faster and therefore the times have to get adjusted as to when to add the secondary ingredients.
Ingredients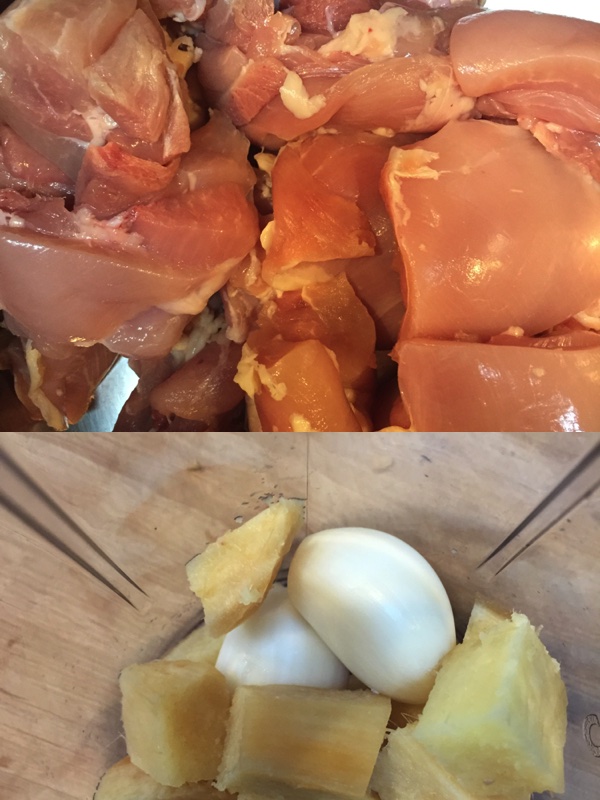 1½ lbs Boneless Skinless chicken thighs cut into 2 inch chunks
2 Tbsp Harissa (I have made it… will post recipe, I have also used canned from Ed Hyder's Mediterranean market Place in Worcester…)
5 medium to large cloves of garlic
As much chunks of peeled ginger as garlic
2 Tbsp Tomato Paste
2 tsp powdered cumin
Salt to taste
1 tsp of Cayenne powder (optional); use less depending on your tolerance for heat..
2 cups of chicken stock and 2 cups of water; you can use all water with very little loss of flavour
1 Purple-top Turnip, peeled and cut into ¾" chunks
1 Large onion chopped (big)
2 Carrots peeled, cut into ¾" chunks
½ small butternut squash, peeled, seeded, cut into 1″ chunks
2 large ripe tomatoes, cored and chopped
Directions
Put the garlic and the Ginger in a mini chop and blend well.  Use a Tbsp of water to aid in the blending.
Place the ingredients (chicken … Salt), including the blended ginger-garlic paste  in a large stock pot
Add the stock and water mixture
Stir and bring to a boil
Reduce heat to achieve a gentle boil and cook for 20 minutes
Add the carrots, turnips, onions and the butternut squash (Parsnips are another perfect addition at his point) and bring it back to a gentle boil and continue for 15 minutes.
Add the chopped tomatoes and continue boiling for 10 more minutes.
Check that the thighs are completely cooked.  They should be.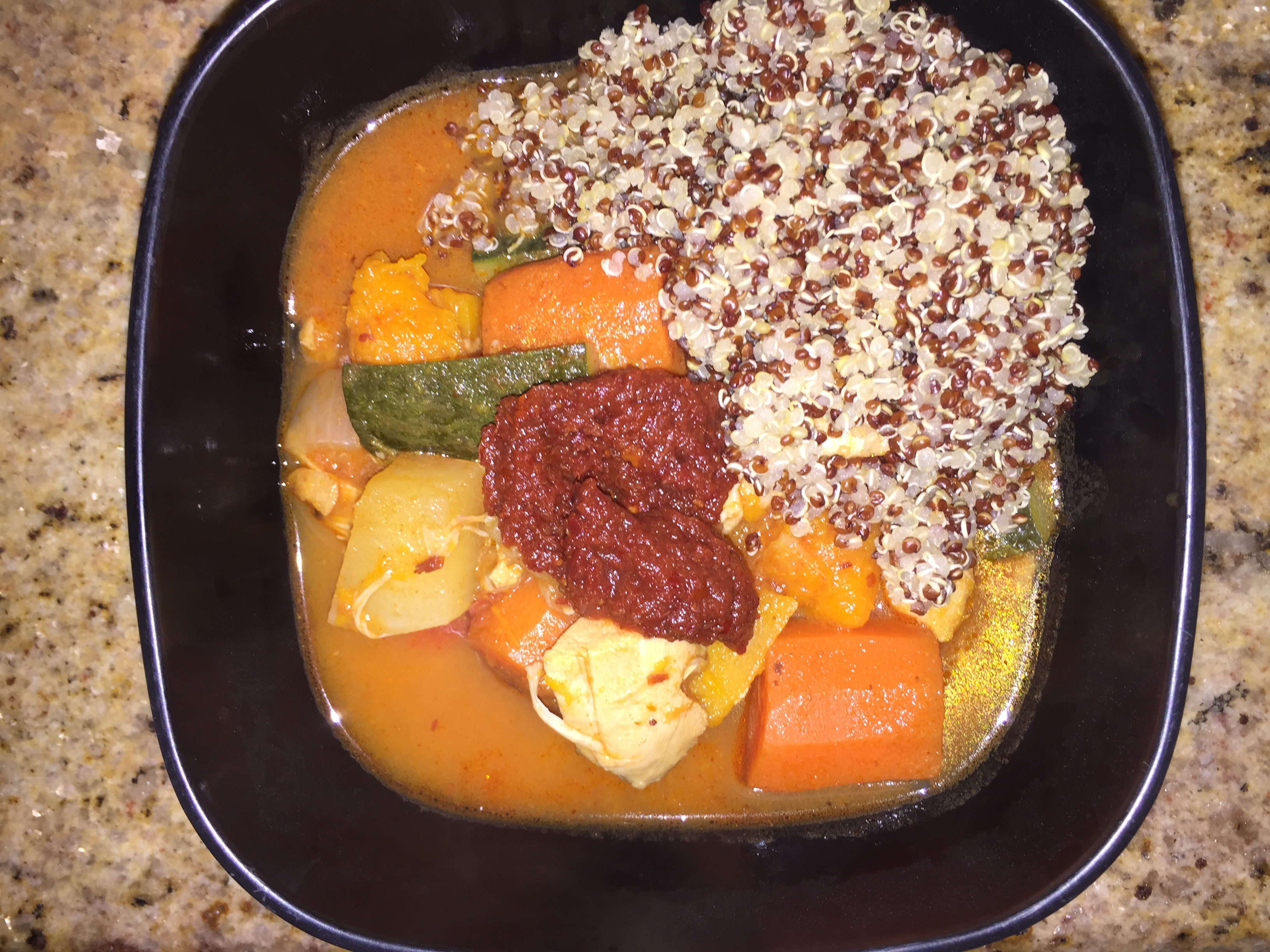 Serve in a bowl with Cous Cous and a robust white wine like a Verdejo, Rias Baixas or even an Alberiño.  This dish has enough muscle to stand up to a red; in that case look for a fruit forward red.  The spices call for the fruit.
The bowl above, mine, I ate it with Quinoa instead of the Carb heavy Cous Cous with an extra dash of Harissa…
Enjoy!!!
Coorg is a region of India which now part of the State of Karnataka or Mysore as it was known during the Raj.  It has its own distinctive flavour profile and is characterized by the use of Vinegar in its marinades as well as the bright fruity acidity of the finished dish.  This particular recipe was an attempt to recreate a Coorg style Chicken curry recipe.
Ingredients
Marinade
1 tsp heaped toasted ground cumin
1 tsp heaped toasted ground coriander
½ tsp ground cardamom
¼ and a pinch of ground cloves
¼ and a pinch of ground cinnamon
1½ Tsp peeled chopped garlic
1½ Tsp peeled chopped ginger
4 Tsp white vinegar
½ tsp or more Cayenne (depends on how hot you want it, stick to a half for New England heat or go up to 1 or more depending on your heat tolerance or desire)
Salt to taste
3 Tsp Lemon juice
Main Ingredients
1 – 1 ½ lb of Chicken thighs trimmed of fat and cut into 1 inch pieces
2 large tomatoes chopped
1 red bell pepper cored seeded and cut into strips
½ cup chicken broth
1 large onion chopped reasonably fine
½ tsp dark tamarind paste
Cilantro for garnish
Directions
Add the chicken to the marinade and mix to coat well
Marinate on the counter top for 30 minutes or even as long as overnight in the fridge
Heat a deep non stick pan on medium high heat and add a couple of tablespoons of oil to it.
When the oil is hot and shimmering, add the onions and saute until the onion starts taking on a bit of color without frying them
Add the ckicken with the marinade  and the bell pepper and continue suteing until the chicken starts taking on some colour as well
Add the tomatoes and the broth, bring it up to a good simmer, cover, reduce heat and cook for the next 15 minutes until the chicken is completely cooked and most of the liquid is absorbed
Mix in the dark tamarind paste and garnish with Cilantro
Serve with rice and Yogurt to to cool your mouth against the heat, if it is warranted.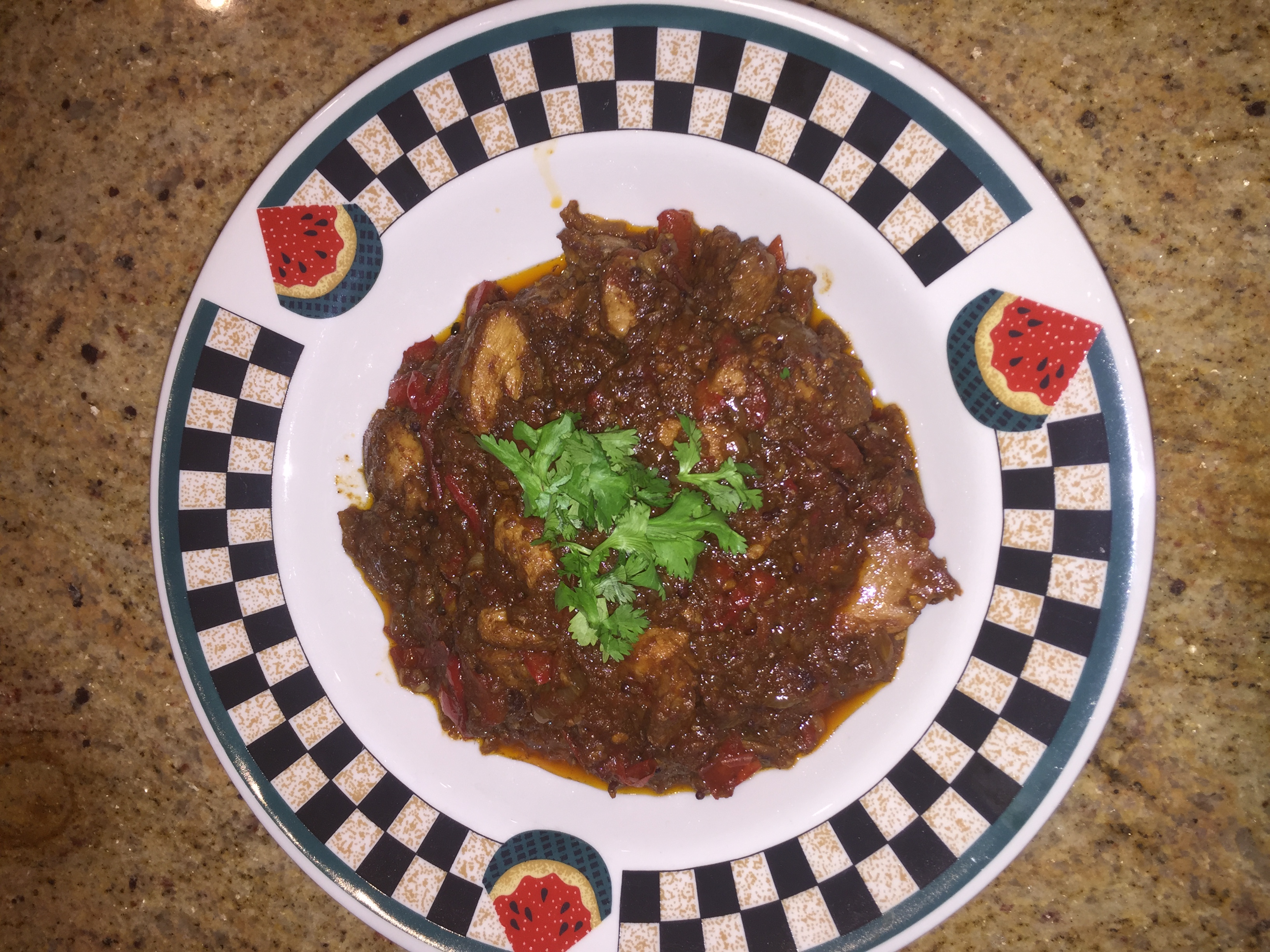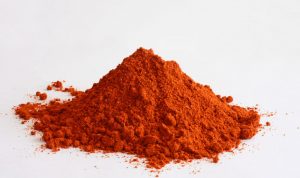 There is nothing quite that says Ethiopian food than Berbere, the ubiquitous spice mix of this land.  Of course, there isn't one recipe for Berbere.  Every household will have its own variation.  This one started with a recipe I got from a colleague of a couple of jobs ago, Abe Woldeselassie.  This was his Grand mothers version.  As is the norm with handed down spice mixes, even in Ethiopia, I added a couple of minor changes and this is what I have been using to make Doro Wat(Chicken) or Key Wat(Beef).  I also love this on roasted Root vegetables (Just toss big chunks in Olive oil with the Berbere and roast them at 375-400 till done and you see some char on them).
Here is my recipe for Berbere.
Ingredients:
2 teaspoons coriander seeds
1 teaspoon cumin seeds
½ teaspoon fenugreek seeds
1 teaspoon black peppercorns
2 whole allspice berries
Seeds of 4 green cardamom pods
4 cloves
5 dried red chilies, seeded, broken into small pieces‡
3 tablespoons sweet paprika
1 teaspoon salt
¼ teaspoon nutmeg
½ teaspoon ginger
¼ teaspoon cinnamon
1 teaspoon turmeric
‡ – You can find giant bags of them for cheap at your local Indian Market.  Use them based on your palate.  I like mine a little spicy.  Use less if you are a "Blandie" 🙂
Directions:
Using a heavy pan, I like my cast iron pan for this, toast the whole spices, including the chillies, on high heat, shaking the pan regularly to prevent scorching until they are fragrant.  This usually takes 2 to 3 minutes.
Put them in a bowl and let them cool completely.
Grind the toasted spices fine in a coffee grinder.  While the Grandmas and Mothers of Ethiopia used mortars and pestles and elbow grease, a dedicated coffee grinder is perfect and I have moved with "new technology".
After grinding the toasted spices fine, add the other spices already in powder form to the grinder and grind everything together for a couple of minutes.
Store in an airtight container in a dark cabinet or pantry.