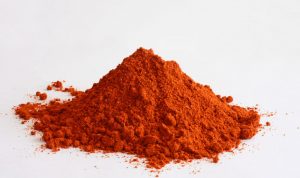 There is nothing quite that says Ethiopian food than Berbere, the ubiquitous spice mix of this land.  Of course, there isn't one recipe for Berbere.  Every household will have its own variation.  This one started with a recipe I got from a colleague of a couple of jobs ago, Abe Woldeselassie.  This was his Grand mothers version.  As is the norm with handed down spice mixes, even in Ethiopia, I added a couple of minor changes and this is what I have been using to make Doro Wat(Chicken) or Key Wat(Beef).  I also love this on roasted Root vegetables (Just toss big chunks in Olive oil with the Berbere and roast them at 375-400 till done and you see some char on them).
Here is my recipe for Berbere.
Ingredients:
2 teaspoons coriander seeds
1 teaspoon cumin seeds
½ teaspoon fenugreek seeds
1 teaspoon black peppercorns
2 whole allspice berries
Seeds of 4 green cardamom pods
4 cloves
5 dried red chilies, seeded, broken into small pieces‡
3 tablespoons sweet paprika
1 teaspoon salt
¼ teaspoon nutmeg
½ teaspoon ginger
¼ teaspoon cinnamon
1 teaspoon turmeric
‡ – You can find giant bags of them for cheap at your local Indian Market.  Use them based on your palate.  I like mine a little spicy.  Use less if you are a "Blandie" 🙂
Directions:
Using a heavy pan, I like my cast iron pan for this, toast the whole spices, including the chillies, on high heat, shaking the pan regularly to prevent scorching until they are fragrant.  This usually takes 2 to 3 minutes.
Put them in a bowl and let them cool completely.
Grind the toasted spices fine in a coffee grinder.  While the Grandmas and Mothers of Ethiopia used mortars and pestles and elbow grease, a dedicated coffee grinder is perfect and I have moved with "new technology".
After grinding the toasted spices fine, add the other spices already in powder form to the grinder and grind everything together for a couple of minutes.
Store in an airtight container in a dark cabinet or pantry.