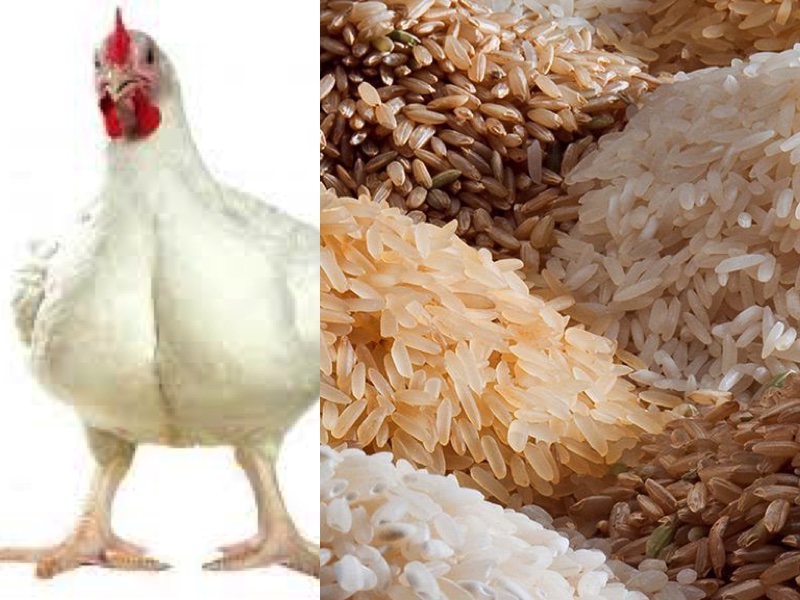 I thought I was going to put up a chicken and rice recipe that I did at home.  But when I started thinking about it, I realized that these two ingredients have travelled the world together and should actually qualify as World Citizens.
What I mean by that is that there are versions of chicken and rice together from all over the world.  The following is a list that comes to mind and by no means is this an exhaustive list.
Arroz con Pollo – this aptly named dish literally "rice with chicken"has multiple variations.  A lot of the Latin American versions are very similar but a few distinctive ones are

The Cubano – One pot meal with Green Peas and Red bell peppers
The Mexican version – the minimalist version
Arroz con Pollo chapina from Guatemala where it is cooked with green peas and Olives and garnished with sliced hard boiled eggs

Riz ala` dajaj – Lebanese or Middle Easters in Origin.  Nuts, Spices and dried fruit can make an appearance is versions of these.  In addition, ground lamb or sometimes beef is browned and then the rice is toasted from the fat exuded from the meats before cooking the rice to increase the depth of flavour of the rice
Nohitlu Pilavi – Turkish, think Pilaf and you will realize where the word Pilaf came from.  Rice Pilaf with Chicken and Chickpeas.  Eat it piping hot with the ubiquitous Turkish Yogurt drink Ayran… (an aside here, ayran is close to the lassi from India… thinner in consistency.  In fact it is very close to the south indian salty butter milk drink served on really hot muggy summer days)
Chicken and Orzo from Italy – Classic easy meal Italian style.  I have even eaten it served with Acini de Pepe
When you venture to the far east or south east Asia these two ingredients go together all the time no matter how they are prepared together or apart.  Every chicken curry tends to show up with steamed rice on the side, be it from Sri Lanka, or any of the 20 different varieties originating from whichever state of India it is, or Thailand or Malaysia.  There is one special one that I will give its own banner here
Chicken Biriyani – Hails from the Southern Indian state of Andhra and comes closes to Arroz con Pollo, but for the fact it is drier than varieties of those.  I may put up a recipe that I cook for Chicken Biriyani as a separate post.  But this dish aromatic with heady smells of Cinnamon, Cardamom and fennel and assembled as layers of cooked rice, vegetables like petit pois and cut carrots, crispy fried onions and chicken.  Think of lasagna to get the effect.  One goes down vertically through the dish as it is served with the layers intact and pick up a bit of each layer in each mouthful.
New Orleans with its fun mixture of Creole and the French has two variants on the chicken and rice theme

Chicken jambalaya – while this has some smoky sausage to help it along , it really is a chicken dish with rice…
Chicken Gumbo – Cooked with Okra and Gumbo filé (sassafras) but served with rice…

Spanish Paella – While you can get Paella of every kind from Seafood to Paella Verdura you still got to love the fact that the most classic version of Paella you get has shrimp, sausages and you guessed it Chicken… with Bomba rice cooked with them flavoured with Saffron!!!
There is always the variants that creep up… Take turkish Nohitlu Pilavi, cut down on the rice, add more broth and flavour it with a bit more and make it into a soup.  Once I made a Chicken and rice Soup with chick peas except it was flavoured with wild thyme, Sumac and toasted sesame seeds and the chicken was cooked with Zaater…. (future post)
Suffice it to say Chicken and Rice walk through the world hand in hand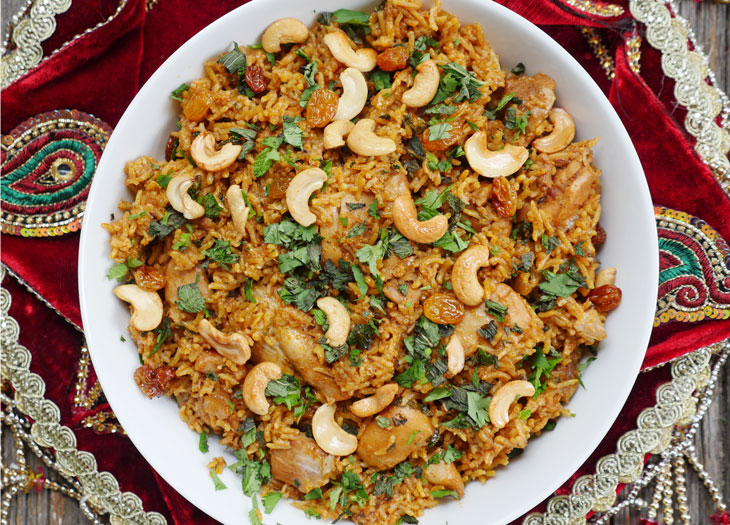 Traditionally Cous Cous with a Meat and Vegetable stew is always Lamb.  I have played with this before by using Beef; I tend to use something like chuck or other tougher stewing kind of cuts of Beef instead of cubed Lamb leg or shoulder.  I decided it was time to really play with this and use Chicken instead.  I did use dark meat aka thighs.  Breast or tenders would have been way too tender a meat and would probably dissolve into the stew.  The thing to watch out for is that chicken would cook faster and therefore the times have to get adjusted as to when to add the secondary ingredients.
Ingredients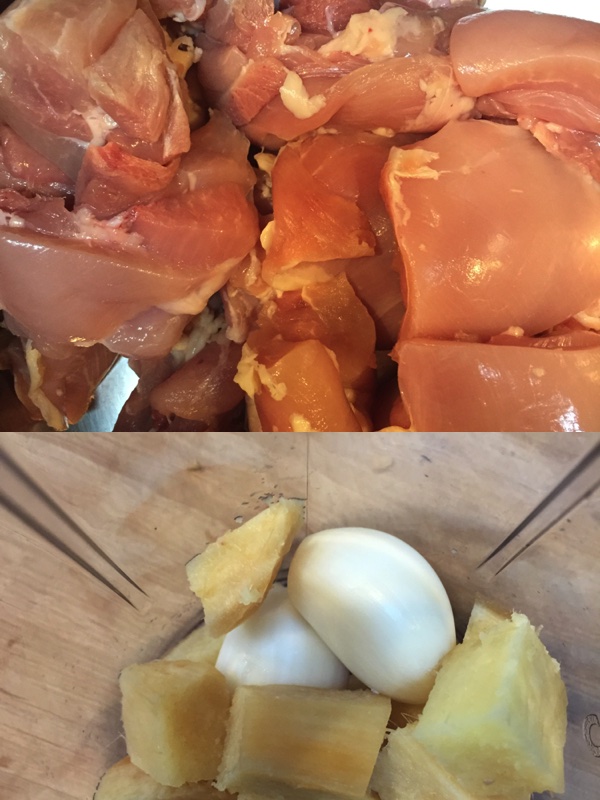 1½ lbs Boneless Skinless chicken thighs cut into 2 inch chunks
2 Tbsp Harissa (I have made it… will post recipe, I have also used canned from Ed Hyder's Mediterranean market Place in Worcester…)
5 medium to large cloves of garlic
As much chunks of peeled ginger as garlic
2 Tbsp Tomato Paste
2 tsp powdered cumin
Salt to taste
1 tsp of Cayenne powder (optional); use less depending on your tolerance for heat..
2 cups of chicken stock and 2 cups of water; you can use all water with very little loss of flavour
1 Purple-top Turnip, peeled and cut into ¾" chunks
1 Large onion chopped (big)
2 Carrots peeled, cut into ¾" chunks
½ small butternut squash, peeled, seeded, cut into 1″ chunks
2 large ripe tomatoes, cored and chopped
Directions
Put the garlic and the Ginger in a mini chop and blend well.  Use a Tbsp of water to aid in the blending.
Place the ingredients (chicken … Salt), including the blended ginger-garlic paste  in a large stock pot
Add the stock and water mixture
Stir and bring to a boil
Reduce heat to achieve a gentle boil and cook for 20 minutes
Add the carrots, turnips, onions and the butternut squash (Parsnips are another perfect addition at his point) and bring it back to a gentle boil and continue for 15 minutes.
Add the chopped tomatoes and continue boiling for 10 more minutes.
Check that the thighs are completely cooked.  They should be.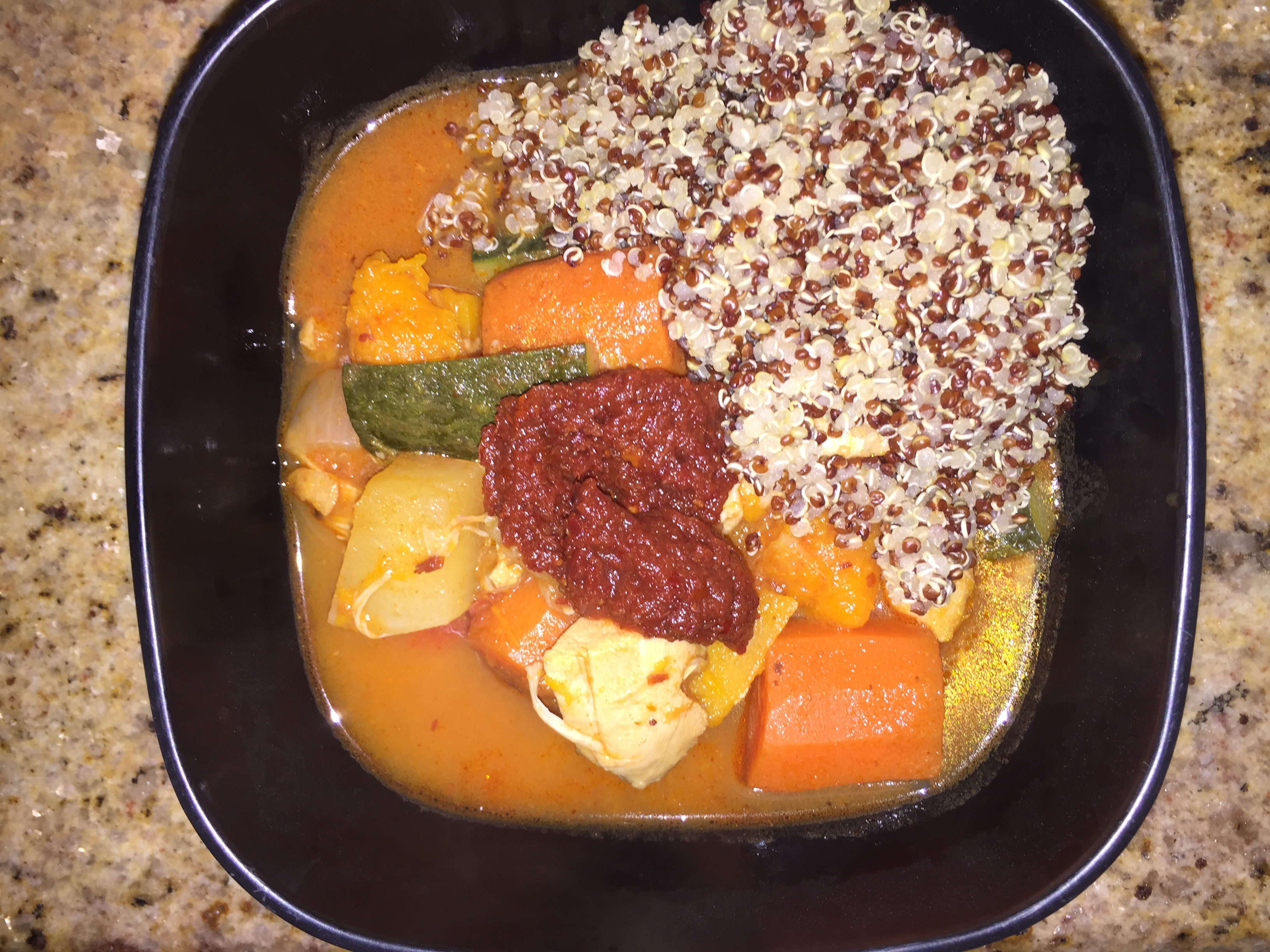 Serve in a bowl with Cous Cous and a robust white wine like a Verdejo, Rias Baixas or even an Alberiño.  This dish has enough muscle to stand up to a red; in that case look for a fruit forward red.  The spices call for the fruit.
The bowl above, mine, I ate it with Quinoa instead of the Carb heavy Cous Cous with an extra dash of Harissa…
Enjoy!!!