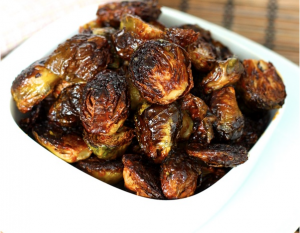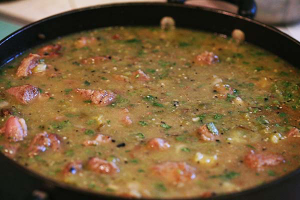 This is a classic Mexican dish with Pork and the bright acidity of the Tomatillos.  This certainly calls for a good Beer to go with it and my personal favourite is, as always, Negra Modelo.
Ingredients:
3/4 lbs Tomatillos
3-4 cloves of Garlic (unpeeled) for Roasting
2 Jalapenos (Seeded and de-veined for the blandophiles, and leave them in if you want the heat… but of course)
2 Poblano chiles
1/2 bunch of Cilantro, rinsed and chopped
1 3/4  to 2 lbs Pork Shoulder cubed
Salt and Fresh Ground Black Pepper
3 Cloves of Garlic finely chopped
Olive Oil
1 1/2 Medium Yellow Onions chopped
1 1/2 Tbsp Mexican Oregano
1 1/2 cups Chicken Stock
1 Pinch of Ground Cloves
Directions:
De-husk and chop the Tomatillos in Half
Broil them cut side down for 5 to 10 minutes in the oven.
Broil the unpeeled garlic cloves and the Poblano peppers separately and squeeze out the garlic from the husk and steam and remove the skin as well as the seeds and the veins from the Poblano peppers.
Blend the broiled tomatillos with the garlic, Poblano and the Jalapeno peppers and the Chopped Cilantro.
Generously season the cubed pork with salt and pepper and sear them in a heavy bottomed skillet with the Olive oil to brown them on all sides.  Work in batches if need be to not crown the pan and lead to steaming the pork rather than searing it.  Remove with a slotted spoon and set aside.
Pour off most of the residual fat and saute the onions and the garlic till wilted and fragrant.
Add back the Pork the pureed tomatillo sauce, the oregano, and the pinch of cloves.  Add a little bit more salt and pepper for seasoning.  Be careful here since the sauce is going to concentrate a bit.
Add enough stock to cover the meat.
Bring to a boil and reduce to a real low simmer and cook on the stove between 2 and 3 hours until the pork is fork tender.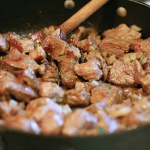 Serve with Mexican style dirty rice and fresh corn tortillas….
Keep the Negra Modelo at hand