Broccoli stems are the discards that should never be discarded.  They have the same flavour profile of Broccoli but are milder in flavour than the florets.  They also have the body to not go mushy when cooking.  Spend some time peeling off the really tough bits of the skin at the bottom of the big stem; use a paring knife rather than a vegetable peeler.  The stalks on the flo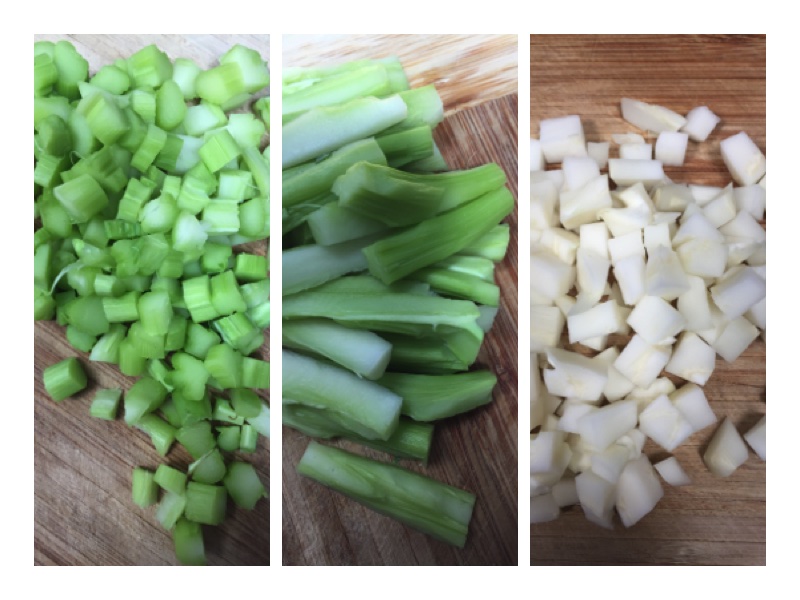 rets can also be peeled.  Then the stems are just delicious is all sorts of dishes.
Let us first talk about the peels from Broccoli and Cauliflower stems.  They have a very strong flavour if you add them to the scraps to make Vegetable broth described in a different post.  However, I save them and make a stock out of them to cook other cruciferous vegetables in like Cabbage or Brussels sprouts.
The stems are absolutely delicious when chopped and added to Vegetable Frittata (fancy term for an omelette); add them to soups chopped up, or to stir frys.  My favourite way is to add them to curries; they have enough body to not fall apart during the long cooking the curry has to have.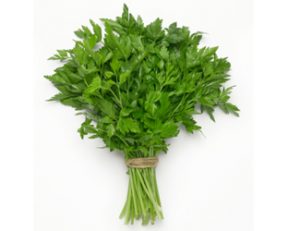 Herb stems get the short shrift when it comes to their use and get thrown out most of the time.
Parley stems (to the left) and Cilantro stems (below) almost always get thrown out.  These have a ton of flavour.  Wash them and chop them fine and throw them in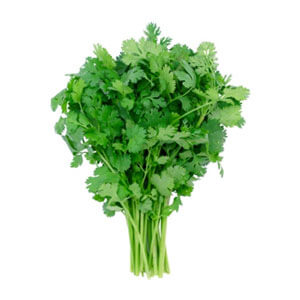 wherever you use their leaves as well.  In fact, they don't lose their aroma and flavour as fast as the leaves, So use them early in the cooking and supplement them to wards the end of the cooking process with their respective leaves.
Chopped Parsley stems work great in soups and stews.  I have also puréed them and added them with leaves to make Pommes persillade, which is Pan roasted potatoes with Parsley and Garlic, a classic French Potato preparation.  Puréed Parsley stems work great when you want to cut the basil in making a pesto with Parsley; just use a mixture of leaves and stems puréed to add to the Basil in making the Pesto.
Chopped Cilantro stems are a godsend when you are making a curry.  I add them early in the cooking process and use them also very heavily when making a curry base.  One of the most common bases for Suuth Indian style Green Curry is puréed Cilantro, Garlic, Green Chillies.  I add the stem in there on a routine basis.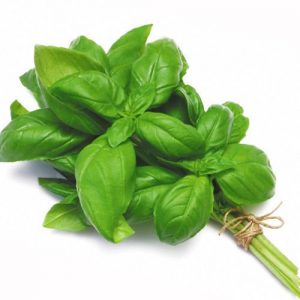 Basil stems, use them in Flavoured oil.  Blanche them for twenty seconds in boiling water and immediately plunge them in ice water to stop the cooking.  This is just to sterilize the outside of the stems.  Dry them completely with paper towels and then put them in a air tight glass bottle with some warm extra virgin Olive oil.  Steep them for a ten days to fourteen days and then discard them or purée the oil soaked basil stems and add them to Pesto.
The woodier stems of Rosemary and thyme have less wide ranging uses.  However, they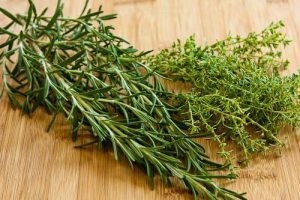 can be added to stews for flavouring.  Rosemary needs care since it has piney undertones.  However, thyme stems are fine when used in stews.  More often than not, I just tie thyme into a bundle with Kitchen twine and use it stems and all and then get them out after the cooking is done.
So don't think of them as waste but there are plenty of usefulness in the parts of herbs we are conditioned to throw away.  Try using them and you will be surprised.
I know I have been remiss the last 3 or so weeks.  I got caught up doing a bunch of other things and have not posted anything.  I will change it.
There a few things on my mind regarding cooking and they will hit the blog soon.  So hang in there.
It has been awhile.  A screwed up OS upgrade trashed phatbugger.com and it has taken a while for me to get of my tush and actually fix this site again.
I still have to get my old posts from a back up and pull them back into this site but I figured I would at least start by posting things again.
So I will start adding some new articles.  I am also experimenting with some new themes and modifying existing themes etc.
So bear with me while this site resurrects itself and starts being active again.