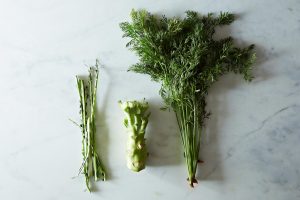 Most of us use vegetables in the kitchen.  We have our habits of processing the vegetables, keeping some parts and tossing out others.  This post is about two different things; one is that by throwing out some parts we may be losing out on the flavours contained there in, and the other is that it extends the use of the ingredient and actually contributes to frugality.  It is the case of use as much of the ingredient as possible, along the lines of eat all parts of the butchered animal ethos.  So I am also going to include these posts under the "Frugal Eating" Category.
One classic example is Broccoli.  We cut the florets to steam and all of the stalks get tossed away as debris.  At best, they are thrown on the compost heap.  The same thing happens with Cauliflower stalks.
This practice is even more prevalent when we look at Herbs.  Parsley is a classic example; we use the leaves and the entire pile of stems hits the garbage.  The same happens to Cilantro and to Basil.
I will treat each of these ingredients and give them their due in separate posts.