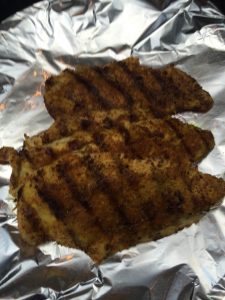 I needed a quick cooking chicken recipe for a summer day when most of it happened on the outside grill.  I wanted something from the Middle East, may be Morocco or thereabouts.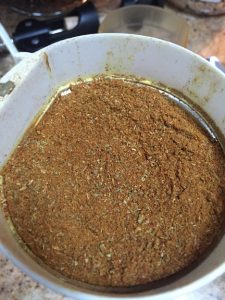 1 teaspoon Cumin Seeds
1 teaspoon Coriander seeds
1 teaspoon Fennel Seeds
Toast all of these over Medium heat till they are fragrant.  Cool and grind fine in a coffee grinder that you have dedicated to grind spices… You have one of these don't you??  You can always resort to a mortar and pestle and elbow grease… Mix in
the following
1 teaspoon of Cayenne pepper (adjust down or up based on your preferences)
1/2 teaspoon of turmeric powder.
Lay the chicken breast cutlets out on a Foil lined plate.
Drizzle Olive oil over the chicken and rub to coat.
Season the chicken with salt and a few grinds of pepper.
Sprinkle the spice mixture evenly over the oiled chicken pieces on both sides and let them rest for 15 minutes on the counter top.
Turn on the grill and get it heated to medium hot.
Grill the chicken pieces quickly over the hot grill.  It should not take more than a minute per side.  I find that cooking is a lot more even if you move the chicken to an unused spot on the grill when flipping so you don't get a lowered temperature
from the old cooking spot.
Rest the chicken for a few minutes for the juices to re distribute in the meat.  Squeeze fresh lemon juice over the chicken and serve with some good Pita Bread and a Middle Eastern Salad.  We did not do it last night when we had this dish, but I think a Spanish Albariño would go splendidly with this one.